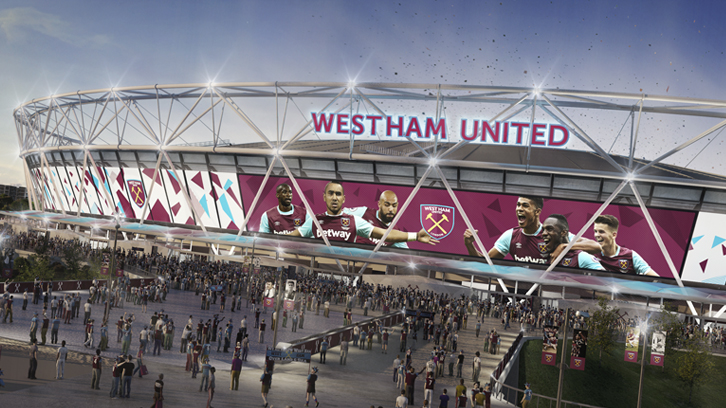 Work to install largest digital screen in Europe at London Stadium is underway
Eleven-panel high-definition (HD) screen will be 82m wide by 12m high
Screens will enable West Ham United to show live and recorded content
West Ham United is pleased to update supporters that work is underway on the installation of the largest digital screen in Europe at London Stadium.
 
Stadium landlords E20 Stadium LLP are set to announce full details soon and West Ham United fans can expect to see the first five panels of the 82m wide by 12m high high-definition (HD) screen being carefully lifted into place at the Hammers' new home on Queen Elizabeth Olympic Park, and for these to be operational for the Premier League visit of Sunderland on Saturday 22 October.
 
Following the Sunderland fixture work will then restart immediately, with the remaining six panels scheduled to be in place for the Premier League fixture with Stoke City on Saturday 5 November.
 
Once completed, the digital screen will set a new benchmark in world stadia, adding another marquee feature to the iconic venue.       
 
West Ham United Vice-Chairman Karren Brady said the new screens will enable the Club to share its market-leading content with millions of supporters every season.
 
"This is yet another exciting and historic landmark moment for West Ham United," she said. "We are delighted that the work to install these magnificent digital screens has begun on schedule, with phase one to be completed in time for our next home match.
 
"These record-breaking screens will not only allow us to share entertaining and engaging live and recorded video content, but also enable us to keep fans right up to date with the latest news."
We are delighted that the work to install these magnificent digital screens has begun on schedule, with phase one to be completed in time for our next home match
Vice-Chairman Karren Brady
The installation is being carried out by Daktronics, the designer and manufacturer of computer-programmable display systems who previously installed the digital screens at the new Wembley Stadium, the Millennium Stadium, Twickenham and Real Madrid's Bernabeu Stadium.
 
Daktronics project manager Rahman Amin is the person overseeing the installation, which initially began with work to strengthen the Stadium's external steel structure in September.
 
"This is one of the iconic projects we have worked on and we're proud to be involved," he said. "These are state-of-the-art screens which can handle HD video quality and they are the biggest in Europe.
 
"This will be a live video screen, enabling you to run live and recorded video, animated or static content, which means you can show pre-event content or highlights, or can even be connected to cameras to show anything going on inside the Stadium."
 
The digital screen completes the stunning external branding of London Stadium, which also features panels showing five West Ham United crests measuring 6.8m high and 7.5m wide, as well as other Hammers signage and branding, all of which are uplit during specified hours of darkness.
 
To complete the eye-catching design that has revolutionised the exterior of the Stadium, an internally illuminated marquee sign spelling out the words 'West Ham United' in Claret and Blue has also been installed, which is also illuminated during specified hours of darkness.
 
Fans can discover nods to the traditions and heritage of West Ham United all round London Stadium.
At Champions Place, supporters, former players and managers are all honoured in a unique walkway of personalised engraved granite stones situated behind the Bobby Moore Stand – one of two named in honour of the Hammers' greatest sons, alongside Sir Trevor Brooking.
 
Each turnstile pod is adorned with a Claret and Blue story relating to the Club's achievements and while inside the concourse hang giant shirts depicting the Hammers' greatest players, past and present.
 
With every Season Ticket Holder's name adorning the Stadium's four Founders Walls on the concourses where they sit and stories celebrating West Ham's successes to be found everywhere from the Players' Tunnel to the Club London hospitality areas, London Stadium is proving to be truly a fitting home for West Ham United.