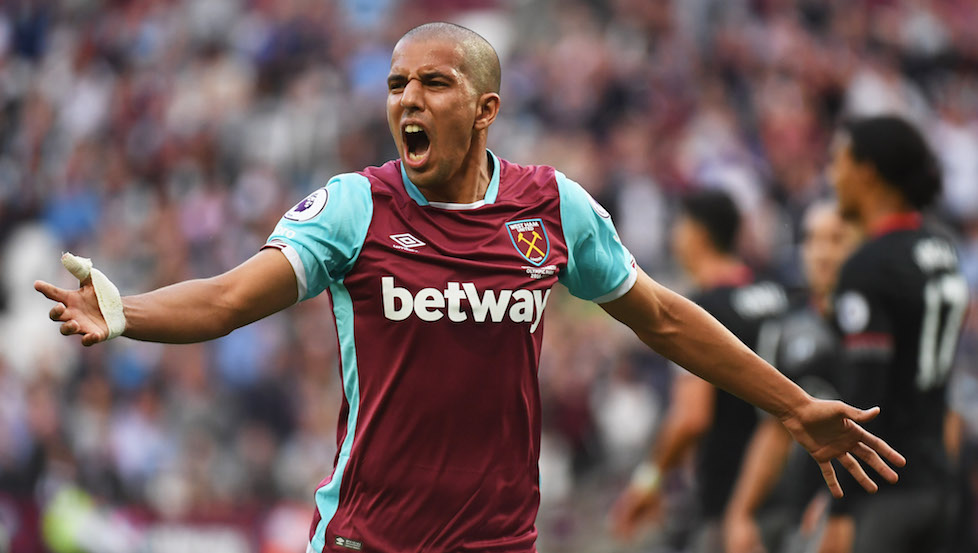 Sofiane Feghouli is ready to make his first Premier League start against Crystal Palace on Saturday and hopes to make a major impact for the Hammers this season.
Feghouli was forced to miss the opening part of the campaign after picking up a hamstring injury during the Betway Cup against Juventus.
The Algeria international has now made a full recovery and made a big impression when he appeared as a half-time substitute in the last game against Middlesbrough.
The 26-year-old is now hoping to play a big part in the big London derby at Selhurst Park this weekend and help his team move away from the bottom three.....
You have now been in England for a few months following your big move to West Ham United during the summer. How are you settling into your new surroundings and how much do you enjoy playing in the Premier League?
SF: "I am really happy to be in England and playing for West Ham. Playing in a new league, in a new country and with a new way of life is an incredibly rewarding experience and one that I am enjoying.
"After six years in Spain with Valencia, I am pleased with how things are going at the Club.
"It was obviously annoying to have picked up an injury so early on in my career with West Ham, preventing me from starting the season as I would have liked to.
"I am getting back my form and hopefully, in the next couple of weeks and with some game time, I can get back to feeling 100 percent."
Was it a difficult decision for you to leave La Liga and join the Premier League?
SF: "It wasn't too difficult to come to my decision. I was coming to the end of my contract at Valencia and for various reasons, we were unable to renegotiate and so, I needed to find a new club and consider the offers that were being made.
"I wanted to give the Premier League a go because it's one of the best leagues in the world and attracts so much attention from around the world.
"In my opinion, every player needs to play in the Premier League at least once in their career for it to be a truly successful one.
"I knew about West Ham and I had heard a lot about the passion of the fans. After speaking to the manager and listening to his project, it was an easy decision for me to join the Club."
You have now played in front of the West Ham fans at home in the Premier League, how would you describe the atmosphere of this ground?
SF: "It is really exciting for us to play in front of so many fans at home. We hope that they can continue to support us and push us on throughout the ninety minutes so that we can start winning games at home.
"We will be doing everything we can to make them happy and to get the win today. We need to get a win to improve the confidence of the squad and to help us to start climbing the table."
How much do the players discuss the reasons for the slow start to the season and how determined are you to turn the season around?
SF: "Of course we are discussing the reasons for our start to the season in the dressing room. We have suffered due to a series of injuries to some key players. So that alone has caused us some issues at the start of the season.
"We also had quite a few games in a short period due to the Europa League and so physically we struggled a bit.
"I know personally that I need time on the pitch to improve my own match fitness and to get back my rhythm. I am sure that in the coming weeks as we get some of our players back to fitness, we will start to perform better as a team."
What qualities will you bring to the team and what can the West Ham fans expect from Sofiane Feghouli this season?
SF: "First of all, I can bring a hunger and desire to win. I can't stand losing, be that in training or on matchday.
"Then, there are my technical qualities, I am a player that can deliver quality deliveries to the attackers, I can score goals and I can play in several positions across the pitch.
"Slaven has followed me for a couple of seasons and so he knows how I play and where best to play me for the good of the team."
At the start of your career, you were often said to be the 'new Zidane', what kind of pressure did that put on you?
SF: "At that time in France, after Zidane's fantastic career, every player coming from the Maghreb was likened to Zidane.
"For me, there was no comparison to make between us. We are two very different types of players with very different styles, so I haven't felt the pressure at all during my career because of these comparisons."
When you played in Spain with Valencia and now, here in the Premier League, do you feel like you are representing your country on the international stage?
SF: "Of course, I know that when I play abroad that I am representing the Algerian people.
"They are back in Algeria supporting me and so I always try to give my best to give the best impression possible of Algeria and to make my fellow countrymen and women proud.
"The Algerian national game has never been as strong as it is today and we have a very talented squad. We have been playing together for a couple of seasons and we are maturing as a team.
"Hopefully, this will show on the pitch in the upcoming tournaments, especially during the African Cup of Nations next year."