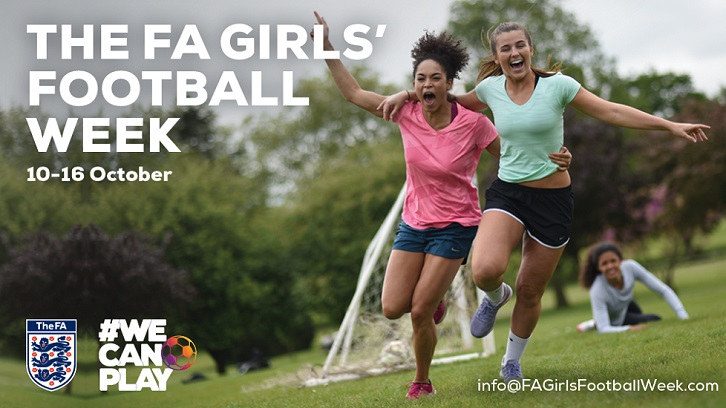 FA Girls' Football Week runs from 10-16 October 2016
West Ham United Foundation running ten tournaments at schools across London and Essex

FA Girls' Football Week is underway (10-16 October) and West Ham United Foundation will be doing their bit to ensure girls across east London and Essex have opportunities throughout the week to get involved.
 
Aimed at increasing grassroots participation amongst females, the week focusses on the involvement and sporting successes of females participating in the nation's favourite sport, and can be tracked on social media using the hashtag 'WeCanPlay'.
 
West Ham United Foundation provide opportunities that see hundreds of women and girls attend sessions across our district on a weekly basis.

The Foundation also has a dedicated women and girls officer, Karen Ray, who has a wealth of experience in the game including playing in America, and two years playing for West Ham United Ladies, who she now captains.
 
Ray will head up ten tournaments throughout the week, engaging upwards of 350 girls, and aimed at showcasing the fun and friendly nature of the nation's favourite sport.
 
She said: "The Foundation work with thousands of women and girls across the district every week, aged from three right through to 90. We provide a mixture of free sessions, funded by partners like the Premier League, and sessions with a small cost, but all are open to beginners, and we welcome any new girls who want to come and see what it's all about"
 
To date, the week has attracted registrations of sessions from more than 1,000 organisations across the country, resulting in more than 60,000 girls who have pledged to take part.
 
FA Director of Football participation and development Kelly Simmons said: "These are really impressive numbers and show just how many girls and women want to play football when they are given the opportunity.
 
"We have set ourselves the ambitious target of doubling participation by 2020 and these figures are really encouraging."

For more information about FA Girls' in Football Week, click here.So, where can you get involved in FA Girls Football Week near you?
 
| Date | Scheme | Ages | Venue | Time | Price |
| --- | --- | --- | --- | --- | --- |
| Monday 10 October | Premier League Kicks | 8-15 | West Ham United Foundation, 60a Albatross Close, off Woolwich Manor Way, Beckton, London E6 5NX | 4-5.30pm | Free |
|   | Premier League Kicks | 16-19 | West Ham United Foundation, 60a Albatross Close, off Woolwich Manor Way, Beckton, London E6 5NX | 5.30-7pm | Free |
|   | Premier League Girls | N/A | Forest Gate Community School, Forest Lane, London E7 9BB | 3.30-4.30pm | Open to pupils only |
|   | Football Development Centre | 5-13 | St Clere's School, West Ham United Foundation, 60a Albatross Close, off Woolwich Manor Way, Beckton, London E6 5NX | 5.30pm-7pm | N/A |
|   | Football Development Centre | 6-9 | Great Baddow High School, Duffield Road, Chelmsford, Essex CM2 9RZ | 5.30-6.45pm | N/A |
|   | Football Development Centre | 10-13 | Great Baddow High School, Duffield Road, Chelmsford, Essex CM2 9RZ | 6.45pm-8pm | N/A |
| Tuesday 11 October | Premier League Kicks | 11-15 | West Ham United Foundation, 60a Albatross Close, off Woolwich Manor Way, Beckton, London E6 5NX | 4-5.30pm | Free |
|   | Premier League Kicks | 16-19 | West Ham United Foundation, 60a Albatross Close, off Woolwich Manor Way, Beckton, London E6 5NX | 5.30-7pm | Free |
|   | Premier League Kicks (Multisport session) | 11-19 | Forest Gate Youth Zone, 1 Woodford Road, Forest Gate, London E7 0DH | 6-7.30pm | Free |
|   | Just Play | 6-13 | Brittons Academy, Ford Lane, Rainham, Essex RM13 7BB | 6-7pm | N/A |
|   | Premier League Girls | Year 7 | Eastlea School, Pretoria Road, London E16 4NP | 4-5pm | Open to pupils only |
|   | Premier League Girls | Under-16 | St Angela's Ursuline School, 1 St George's Road, London E7 8HU | 2.30-3.30pm | Open to pupils only |
|   | Premier League Girls | Under-16 | St Angela's Ursuline School, 1 St George's Road, London E7 8HU | 3.40-4.40pm | Open to pupils only |
|   | Premier League Girls | Under-16 | Little Ilford School, Browning Road, London E12 6ET | 3.15-4.15pm | Open to pupils only |
|   | Premier League Girls | Under-18 | NewVic College, Prince Regent Lane, London E13 8SG | 5-6pm | Open to students only |
|   | Premier League Kicks | 11-16 | Stepney Green Hub, Redmans Road, Stepney, London E1 3DB | 3-5pm | Free |
|   | Premier League Kicks | 11-19 | Forest Gate Hub, 1 Woodford Road, Forest Gate, London E7 0DH | 3-5pm | Free |
| Wednesday 12 October | Just Play | 18-65 | Play Football Romford, King George Playing Fields, Eastern Avenue, Romford, Essex RM7 7AY | 8-9pm | N/A |
|   | Premier League Girls | Under-16 | Brampton Manor School, Roman Road, London E6 3SQ | 2.30-3.30pm | Open to pupils only |
|   | Premier League Kicks | N/A | Beckton Globe Youth Zone, 1 Kingsford Way, Beckton, London E6 5JQ | N/A | Free |
|   | Premier League Girls | N/A | Newham Leisure Centre, 281 Prince Regent Lane, London E13 8SD | N/A | Open to pupils only |
| Thursday 13 October | Football Development Centre | 5-13 | West Ham United Foundation, 60a Albatross Close, off Woolwich Manor Way, Beckton, London E6 5NX | 5.30-7pm | N/A |
|   | Football Development Centre | 5-13 | West Ham United Foundation, 60a Albatross Close, off Woolwich Manor Way, Beckton, London E6 5NX | 6-7.30pm | N/A |
|   | Premier League Kicks | 16-25 | Little Ilford Youth Zone, 1A Rectory Road, Little Ilford, London E12 6JB | 4.30-6pm | Free |
|   | Premier League Kicks | 8-19 | Priory Park, 106 Parr Road E6 1QH | 4.30-5.30pm | Free |
|   | Premier League Kicks | 8-16 | Barking & Dagenham Hub, Barking Abbey, South Park Drive, London IG11 8UF | 4-6pm | Free |
|   | Premier League Girls | Under-16 | Kingsford School, Kingsford Way, London E6 5JG | 3,15-4.15pm | Free |
| Friday 14 October | Premier League Kicks | 11-15 | West Ham United Foundation, 60a Albatross Close, off Woolwich Manor Way, Beckton, London E6 5NX | 4-5.30pm | Free |
|   | Premier League Kicks | 16-25 | West Ham United Foundation, 60a Albatross Close, off Woolwich Manor Way, Beckton, London E6 5NX | 5.30-7pm | Free |
|   | Premier League Kicks | 11-19 | George Green, 100 Manchester Road, London E14 3DW | 5-6.30pm | Free |
|   | Premier League Disability/Give Us A Break | 11-18 | Morpeth School, Portman Place, London E2 0PX | 3.30-4.30pm | Free |
|   | Football Development Centre | 5-13 | Play Football Romford, King George Playing Fields, Eastern Avenue, Romford, Essex RM7 7AY | 5.30-7pm | N/A |
|   | Little Hammers | 3-5 | Timber Lodge, 1A Honour Lea Avenue, London E20 3BB | 10am | N/A |
| Saturday 15 October | Premier League Disability | 8-25 | Barking Abbey School, 279 South Park Drive, London IG3 9AX | 10.30am-12.30pm | Free |
|   | Premier League Disability | 8-16 | Mile End Leisure Centre, 190 Burdett Road, London E3 4HL | 2-3pm | Free |
| Sunday 16 October | Premier League Kicks | N/A | Plaistow Park, Greengate Street, Plaistow, London E13 0AS | 2.30-4pm | Free |