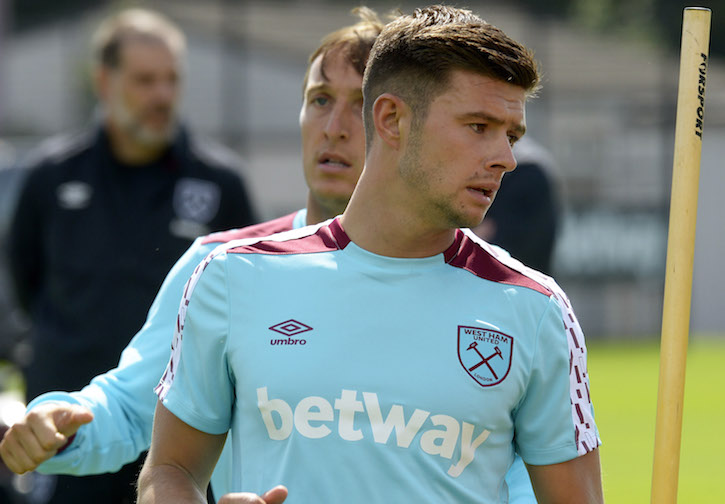 Aaron Cresswell says he is dreaming of walking out in front of nearly 60,000 fans on a regular basis and cannot wait to play his first game at London Stadium.
Cresswell is hoping to make his long-awaited comeback against Crystal Palace next weekend after being forced to miss the start of the season with a knee ligament injury.
The former Hammer of the Year has stepped up his fitness over the last few weeks and successfully came through his first game when he played 50 minutes in a training ground match last Thursday.
Cresswell is now hoping to help his team-mates get back on the winning trail as they look to move away from the bottom three and is counting the days until he can make his first appearance at the Hammers magnificent new home.
Cresswell said: "I played in the final ever game at the Boleyn Ground and was then looking forward to playing the first game at the new Stadium, so to miss it was a big blow.
"I am really looking forward to walking out the tunnel in front of 60,000 fans and it is something you dream of. I am looking forward to playing my first game there.
"The new Stadium is fantastic and when you look around the place it is everything that you could ask for.
"I can just imagine when we have the really big games and I know the atmosphere is going to be unbelievable and it will be special."
Cresswell has nothing but praise for the way the West Ham medical staff have helped made a speedy recovery after initial reports suggested he could face four to six months on the sidelines following the injury he sustained on the Club's pre-season tour to Austria.
The talented full-back also has a special word for his partner Jessica who helped him come through a difficult spell when he first suffered the injury and does not have to look after his every need anymore!
Cresswell added: "I am 26 and this is the first big injury I have suffered during my career. Hopefully I will be able to get over this little setback and stay injury free for a long time.
"I was stuck in a knee brace for four to six weeks and it was hard to get the knee bending. I could only bend it so much and it was difficult for me just to get out of bed and walk down the stairs.
"There was some dark days during that time but I can now see some light at the end of the tunnel.
"The missus was great to me during that time and it felt like I had a little bell by the side of the couch that I kept pressing every time I wanted something!
"It was little things from wanting a cup of tie or getting the food on, but she was fantastic during that period and helped me through it as well when I couldn't walk or get down the stairs.
"Everyone told me to keep positive and that helped me get through it."