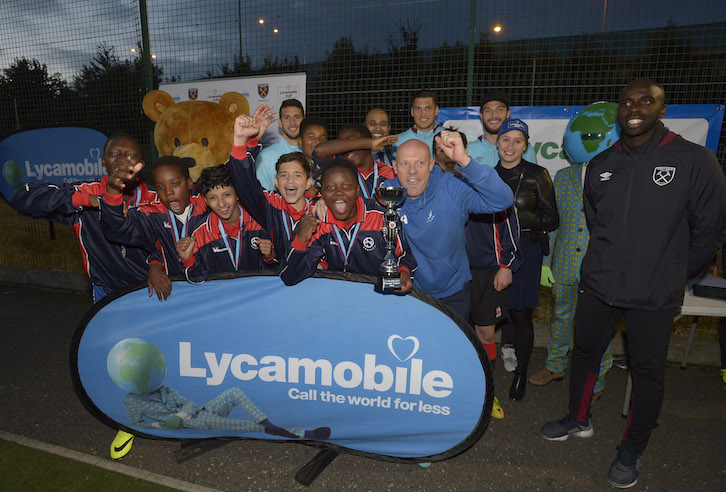 West Ham United players turned out in force to help launch the 2016 Lycamobile Cup and paid tribute to the hard work that is being done by everyone at the Foundation.
Andy Carroll, Jonathan Calleri and Raphael Spiegel enjoyed their visit to the Club's Foundation on Tuesday night and were taken aback by the quality on show from the teams taking part.
The Lycamobile Cup is a youth football tournament that involves 84 teams from local secondary schools and community centres competing in a series of competitions over the course of the season. The Cup is split across two categories – under 12 (year 7) and under 14 (year 9).
The tournament will culminate in an exclusive finals day for the players and their families in April 2017, where finalists will enjoy the opportunity of a lifetime to play at West Ham's impressive London Stadium.
Now in its fourth year, the tournament has seen a dramatic rise in participation since its inaugural year in 2013/14, with upward of 3,500 participants last season.
The players certainly seemed to raise their game when the Hammers stars arrived in Beckton and Carroll says it brought back a lot of memories from his childhood.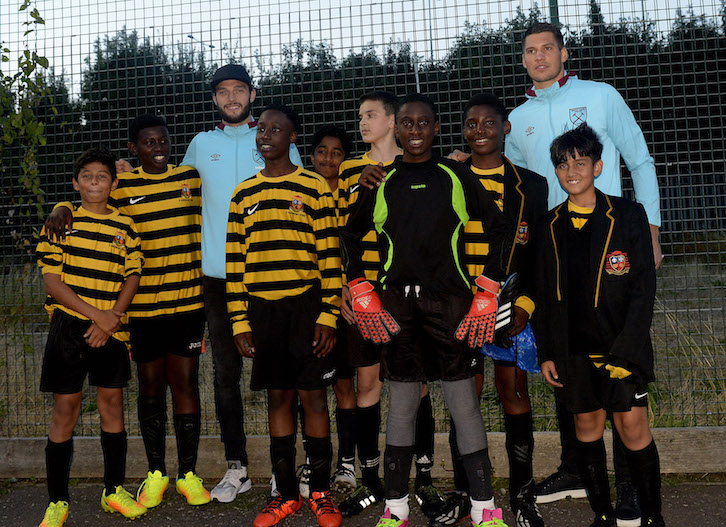 Carroll said: "I think it is really good that we put on events like this in the local area. It is great for the community and great that West Ham can be a part of it.
"I think there are a lot of good players taking part in this scheme. I was watching them play for about an hour and could see the quality they have.
"I can remember playing in similar tournaments when I was growing up and I loved every minute of it. I remember one year we got to the final and got beat and I have never forgotten it.
"I can still remember what happened and every time I go back home, I still speak to the lads who played with me and we talk about the event and it was devastating to lose.
"I knew there was a lot of work going on in the Foundation but until you come down and see the time and effort that people put in to set up events like this you appreciate that it is a great set-up."
Argentine forward Calleri has only just arrived at the east London Club, but he has nothing but praise for the work the Foundation is doing in the local community and says it is a big change for what he is used to back in south America.
Calleri said: "It is a very important event and I was very happy to be there. As a kid I enjoyed it when top players came to watch us play and it is very important for society in terms of bringing people together.
"In Argentina we didn't have tournaments like this so it is a great initiative and it should hopefully pay off in the future. I feel very privileged that I have now made it as a Premier League footballer and I want to give my absolute best for West Ham.
"It is very important for the Foundation to put in the work they are doing in the local community. In Argentina there is a lot more inequality and poverty, but working with young kids here will obviously benefit the youngsters in the future and hopefully some of them could even make it as a player for the Club in the future."
The memories also came flooding back for West Ham keeper Spiegel who used to participate in a number of similar events when he was growing up at Grasshopper's and feels it is the ideal platform for youngsters to showcase their talents.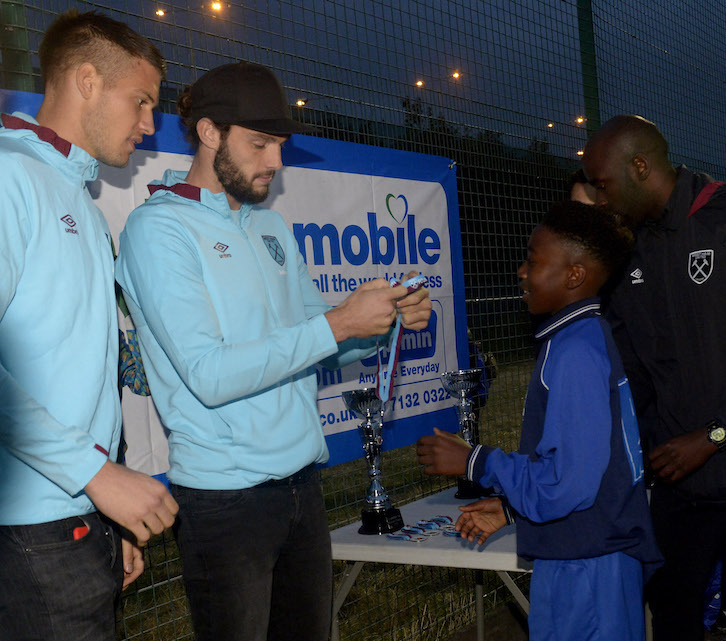 Spiegel said: "All the kids look really happy playing football and playing in this tournament. I remember as a youngster playing in a similar kind of competition and it is a lot of fun. It is great to play with your friends.
"Hopefully seeing some of the Premier League players turn up will make them want to play better and want to achieve that as well. It is great to see them in action and I have seen some good skills from the players.
"You have to start work when the kids are young. We know we have some amazing youngsters at West Ham and it starts at tournaments like this. I would urge all the youngsters to keep having fun, work hard and believe in yourself.
"It is vital that the kids start playing football at a young age and it is great that West Ham can support them."
Lycamobile the world's largest international mobile virtual network operator (MVNO), in association with the West Ham United Foundation are proud to play their part in such a successful tournament and hope it will bring people even closer together.
Subaskaran Allirajah, Group Chairman of Lycamobile, commented: "It is such an honour to launch the 2016 Lycamobile Cup and be joined by all these young, talented footballers. The Lycamobile Cup is a reminder to us all of how important it is to inspire young people and bring communities together."

ABOUT WEST HAM FOUNDATION
Ever since its inception in 1990, the West Ham United Foundation has sought to promote the Club's core values through its many ground-breaking outreach programmes.
The Foundation continues to develop its projects and look at how football, and sport in general, can be a force for social good. Having provided some 1.5 million opportunities to date, they offer unique life-changing experiences – with clear benefits including health, personal development, educational attainment and social inclusion.
More information about West Ham United Foundation can be found here