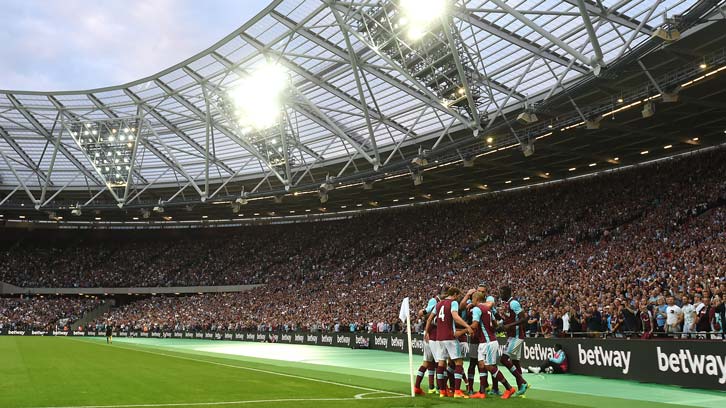 Vice-Chairman Karren Brady has spoken positively about West Ham United's future at the Leaders Sports Business Summit.
 
The Summit saw the industry's most influential people gather at Chelsea's Stamford Bridge to share intelligence and discuss the innovations that will help shape the future of sport.
 
In recognition of the developments the Club has made in recent seasons, the Vice-Chairman was invited Napoli Chairman Aurelio De Laurentiis in leading a discussion on the subject of 'Ownership and the Business of Running a Team: Motives, Plans and Growth'.
 
During a lively 45-minute discourse, the Vice-Chairman explained how the Club's 'strong heritage and culture' are central to its success, on and off the pitch.
 
"I was honoured to be invited to take part in the Leaders Sports Business Summit, where I was delighted to take the opportunity to speak about our unique Football Club," she said.
 
"West Ham United has a strong heritage and culture that are unique, not just in English but European and world football – characteristics that my Joint-Chairmen David Sullivan and David Gold recognised, first as fans and, since 2010, as owners and custodians of this special Club.
 
"Those same characteristics are, I told the Summit, the thing that sets West Ham apart and what has made us so attractive and special to supporters beyond our core UK fan base. As I said, its not the Stadium that makes the Club, it's the supporters''
 
"That we have grown to be one of the biggest 15 clubs in world football is down to a wide variety of factors, all of which are rooted in our loyal, committed and ever-growing fan base, which now stretches across the globe."
 
The Vice-Chairman was invited to explain how West Ham's move to the 57,000-capacity London Stadium this summer was central to the Club's rapid recent growth and ambitions to become an established leading global brand.
 
With 52,000 Season Ticket Holders, including 25,000 from families and 10,000 aged 16 or under, and more than 50,000 supporters on a Waiting List to join them, the Hammers could soon be playing home matches in the largest club ground in London.
 
"Our move to London Stadium was part of our ambitious strategy to take our Club to the very top of the world's most-popular sport," she said. "We are hugely grateful to our 52,000 Founders and are working tirelessly to make their matchday experience at our iconic London Stadium home the very best it can be.
 
"This is an ongoing process, but the passion and commitment of my Board, staff and West Ham supporters is such that it is one we are confident of moving forward quickly and effectively.
 
"In addition to our strong position in the Premier League, there are factors such as the size and loyalty of our fan base, the capacity of the ground, our strong identity and focus on youth both among supporters and squad development, that have served as key factors in our recent growth.
 
"When we arrived in 2010, it was plain to my Joint-Chairmen and myself that West Ham United had every key element required to establish the Club as on a truly global scale.
 
"As a Club famous for winning the World Cup in 1966, when Bobby Moore lifted the Jules Rimet Trophy, and an Academy recognised globally for being the best at producing and developing home-grown talent, it was clear that the strong heritage and traditions required to widen our worldwide appeal were already present.
 
"Our privileged position as integral members of the Premier League, the most-watched football league in the world, means we can continue to share our unique story with football fans, both at home and abroad.
 
"With a market-leading digital marketing strategy, new overseas social channels being launched and the Club becoming the first in the UK to sign an eSports player, we are determined to remain at the forefront of the innovative ways in which football is changing to adapt to an ever-changing world.
 
"We are determined to build on that momentum as we work towards a positive future for everyone associated with West Ham United."