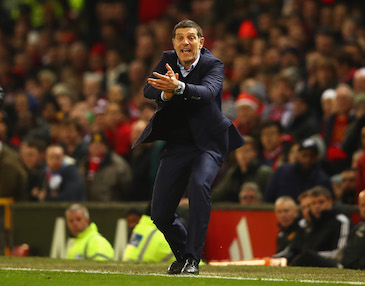 Good morning everyone,
We are preparing for another big night in the EFL Cup quarter-final against Manchester United and we are approaching this game with big ambitions.
We had a great run in the FA Cup last season when we got to the quarter-finals and we want to do well once again.
It's a great thing for us and for the clubs not likely to win the league. You have more chances to be successful in the cup competitions and that is why the game is massive for us.
I said I will make a few changes but it will still be a strong team. I have a decision to make on which goalkeeper will play.
I told Adrian it was nothing personal when I changed the keepers around for the Tottenham game.
He was the number one goalkeeper in all my time here, so when I made the change he was obviously disappointed.
But he is a great professional and said he is going to work even harder to get back his shirt.
I know the next game against Arsenal could be a little bit easier if it was being played on Sunday and it's a little bit tight between the games.
This is a chance for some of the other players who have not been involved in the first-team in recent games to show what they can do.
Unfortunately nowadays you have to judge the players not long term, but based on one game.
Some signings got injured, two of them did, and they came back. Some got a chance, some didn't, because we had a team and a system. You can't give all the players a chance at the same time.
We are going to try for the ones that showed a good mentality, good training, good quality, good fitness to one or two, without negative pressure that you have to score a hat-trick.
It is a big chance for them against Manchester United.
I am looking forward to coming up against Jose Mourinho once again.
I like Jose and have a good relationship with him. I like him and I don't hide it. I am very proud to have a very good relationship with him.
I want to wish all the fans a safe journey up to Old Trafford and hopefully we can come away with a memorable result.
Enjoy the game.
Slaven
Tickets are still available for the game on Wednesday night. Fans should visit the ticketing and membership services office at Old Trafford which is open from 8am on Wednesday.