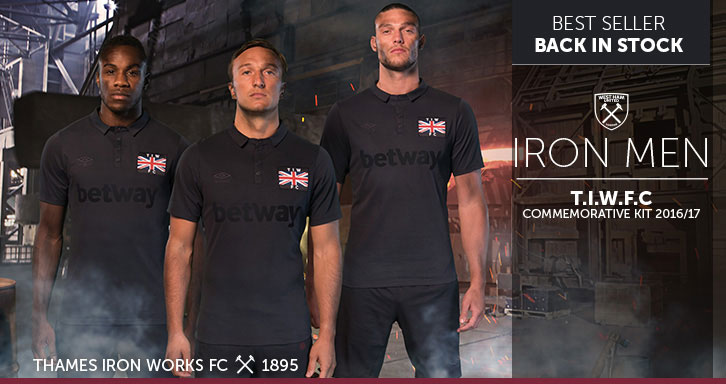 Our Thames Ironworks kit is back in stock at Official Club Stores and officialwesthamstore.com – in time for Christmas!
The commemorative kit, which sold out within weeks of its launch in the summer, mirrors the very first kit to be worn by Thames Ironworks FC, the Hammers' forerunners.
The navy kit features Union Jack detailing and pays homage to the Iron Men at the heart of the Clubs rich foundations.
In order to honour our proud heritage in this historic season, the current generation took it to the pitch once again for the official opening of London Stadium against Juventus and you can buy it now at officialwesthamstore.com
So hurry to get your hands on the ideal Christmas present for the Hammer in your life before it sells out again. The kit is limited edition and it is anticipated that the most popular sizes will fly off the shelves as we head into the busy Christmas period.
The Thames Ironworks kit was integral to the special opening ceremony at London Stadium as the Hammers faced Italian giants Juventus to begin life at their new home.
The historic kit also gives a link right back to the Club's roots as the Hammers honour the traditions which take them through to the present day.
Our online store is open for business 24/7 and you can also shop at any of our three Official Club Stores – London Stadium, Lakeside Thurrock and Liberty Romford.
Get set for the festive season by viewing our Christmas catalogue here.