West Ham manager Slaven Bilic sat down with the media to preview the first of his side's two matches against Manchester United in the space of four days.
The Hammers take on Jose Mourinho's outfit at Old Trafford in the Premier League on Sunday afternoon and the boss was keen for his squad to move on from last weekend's defeat to Spurs.
The Croatian also gave an update on Pedro Obiang, spoke about Winston Reid as well as discussing his relationship with the Club's owners.
Morning Slaven. Could we start off with some team news for Sunday's game?
Good morning. From the Spurs game, we had Pedro [Obiang] who has been playing with an ankle injury since Everton. He didn't train for a couple of days but he's back and training with us today and hopefully he'll be OK. Apart from that, it's all good.
Winston Reid, who is suspended, has been central to your system. What are the plans for Sunday?
He has been instrumental. He has been really good since we changed the system. He was suspended for the game against Stoke and we have players we can put in without changing the system, or we can change it.
There has been speculation about your future, what have the owners said to you?
There isn't much to say. I'm doing my job. I speak to the owners regularly after every game and if inbetween, there is something to talk about, I have that support. I'm concentrated on my job and our next game and that's basically it.
Are you fearful?
No – I feel the pressure of course, because we are not delivering and performing enough to get points to feel happy. But I see the improvement, I see the team that is hungry and alive and the points were there for us in a very difficult away game. That's what I'm concentrated on and not to make mistakes like we did against Spurs.
How important is the support you feel from the owners?
That is important but it's not the crucial thing. I have told you many times – you are concentrated on your next few games that can change things from bad to good or good to bad. Let's say, when we were doing really good, I didn't think about a chance for a new contract, because I have a contract. If we are looking at our position in the table, I am just concentrated on improving the team and winning and how to lift the team up.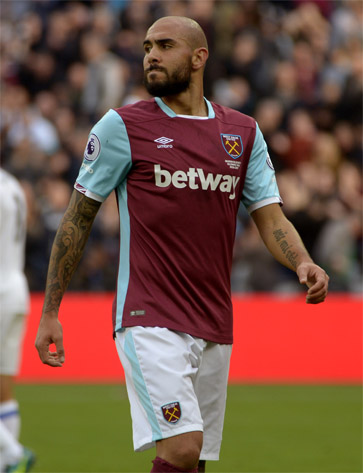 Do you feel the league position is reflective of the performances?
It's still very tight. With a win against Tottenham we would have been 12th or eleventh, but we are in the position we are. You can stay it's still early days, but we have to start picking up the points. We can say we were unlucky or we deserve more, but the table doesn't lie.
It hasn't worked out for Simone Zaza yet. Are you still comfortable he will still be here when the window shuts?
I believe in him. He's our player and it's not only him but we need him to, with the help of teammates, to start producing and doing what we got him for. If he starts or doesn't start games, it has nothing to do with the clause but only on his training performances and performances in games.
Man United seem to be picking up of late – do you think you are playing a team that are contending for the title this season?
The gap is not small but it's also not big and of course they are showing two faces. They played well last night and they're Man United. But they need points in the Premier League and it's gonna be a big game for us and for them in a great stadium. It will be difficult but you can't expect any less in the Premier League, especially as you're playing Man United away.
Jose Mourinho's home record as a manager is unbelievable, but do you feel like you've lost a little bit of that aura?
He is one of the greatest. Statistically, he's probably the best in the last ten years in home percentages, titles, Champions League, whatever. But it's impossible to stay at that standard and maybe that percentage has dropped now. It's impossible to maintain that for such a long period. It is a miracle he was doing that for ten years. If you didn't know about his record from history, his current record would still be great.