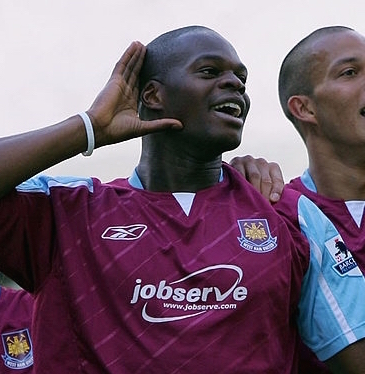 Marlon Harewood will never forget his last ever game for West Ham United.
In fact, 13 May 2007 will always be remembered by everyone associated with the club as it was the day Carlos Tevez scored the winning goal against Manchester United to keep the Hammers in the Premier League.
Alan Curbishley's side somehow managed to win seven of their last nine games to stay in the top flight which was labelled the 'Great Escape'.
Harewood says he will always remember the memorable celebrations which took place on the pitch and the incredible team-spirit which saw them defy all the odds to retain their top flight status.
The 1-0 victory was the last time the Hammers manage to secure a victory at Old Trafford and Harewood says he would love to see a similar outcome when the two teams meet on Sunday....
I will never forget the events that unfolded at Old Trafford that day and the celebrations will stay with me forever because it capped off a mad season for us!
We had got to the FA Cup Final the year before and finished in the top half of the table, but were then facing a relegation struggle for the majority of the season.
There was a lot of attention surrounding the club following the arrivals of Carlos Tevez and Javier Mascherano, but it never fazed us as players that they were part of the squad.
They were two massive players coming to the Club and we thought it can only be a good thing for West Ham to move forward.
But unfortunately we still struggled and it needed an amazing run of form at the end of the season to keep us up.
The players had a good feeling heading up to Old Trafford and we felt a bit unstoppable considering the amount of wins we had put together. We were going at teams with nothing to lose.
It was not ideal that we were playing Manchester United away in the last game and other teams must have been predicting that we would not get anything.
I don't think Curbs had much to say in the dressing room before the game as he just made it clear to us that we needed to carry on the way we had been performing in the last few games and give your best.
Carlos had an amazing run of form and he was top class. You could see back then the quality he had as a striker and it was a privilege to train alongside him every day and learn from him. I loved playing alongside him. He helped us to stay in the Premier League.
The celebrations will stay with me forever because it capped off a mad season for us!
 

Marlon Harewood
I had to settle for a place on the bench in the final game which I was fuming about as I was desperate to be involved!
But the Club will always have a special place in my heart so I was just pleased to do anything to help them stay up. I came on in the second half and we managed to get the victory.
I joined Aston Villa later that summer but I had no idea at that stage it was going to be my last game.
I wanted to be on the pitch at the end which I managed to do and the celebrations were something special. It was great to see the emotion from all the players because it meant so much to everyone.
It was a tough year for everyone and we were fighting for everything. I cannot speak highly enough about the group of lads we had there at the time and we knew we could get out of it.
It is crazy to think that Nobes and Ginge were also part of the team that day and I am so happy for both of them that they have had long careers at West Ham.
Nobes is an amazing lad and a great leader and you could see the determination he had that year as a youngster. He is a credit to West Ham and a credit to football.
Ginge has also been there a long time and has achieved so much during his career and is still producing his best form for club and country. It is a massive achievement for both of them.
It is a bit scary that the last time West Ham won at Old Trafford was back in 2007 and time flies.
But we have got an opportunity on Sunday to get another victory up there and hopefully the lads can get the right result. They are certainly capable of getting a victory.
United are not playing the best at the moment so it is a great time to go there and try and get a result.
We are playing them twice in four days, but the one on Sunday is massive because three points can help us move up the league.