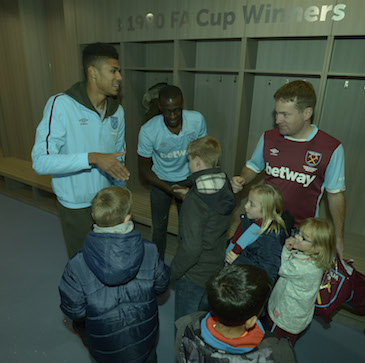 The London Stadium Tours have proved to be a big success with West Ham supporters this season as fans get a major insight into life at London Stadium.
From walking out the tunnel to going behind-the-scenes in the dressing room, these are just a few of the big features that make the London Stadium tours a must for every West Ham United fan.
All generations of Hammers fans have enjoyed the experience and this proved to be the case once again for the Baker, Karir and Sinclair families who had a big surprise in store when they went on a London Stadium Tour.
As they made their way into the dressing room first-team stars Ashley Fletcher and Pedro Obiang were waiting to greet them and made it a night for them to remember at London Stadium.
Fletcher said he was pleased to play his part and knows what it means to the fans when they get the chance to meet up with the players.
Fletcher said: "It was a great gesture from the Club to put this event on for the fans.
"It enables the relationship between the fans and the Club to get even stronger. I was happy to come along with Pedro and help out."
Obiang was also happy to make the night even more special for the Hammers fans and says he hopes many more will come and see the tour in the near future.
Obiang said: "I think it's a big surprise because when you come and see two players from the team, it's great and it's amazing."
For more information on the London Stadium Tours click here.