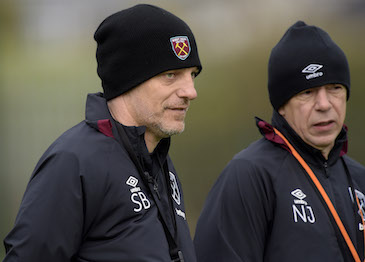 Good morning everyone.
This is always a big day when we play Tottenham in the Premier League.
It has always been one of my biggest games. I don't know why, maybe you have to look back at the history between the clubs.
Even the foreign players know the importance of this game.
It's more electric, you can feel it when you are playing Spurs. So hopefully we are going to play well on Saturday because it is a game that means a lot to all of us.
My first game for West Ham as a player was against Tottenham.
I didn't play a few games before so I couldn't compare. But the atmosphere was unbelievable. You have other London derbies but for me this is the biggest.
I am delighted that Diafra Sakho is now available for selection again.
I love him as a player. There are a lot of positives about him, but unfortunately he got injured after our first training session.
There will come a time when he has to play. He has done enough training and he is looking good, you can't test him more.
Eventually he will have to test it on the pitch, whether it's now or next week. It depends on our decision here at West Ham.
Mentally he is very fit and he is totally up for it.
This is always a big day when we play Tottenham in the Premier League.

Slaven Bilic
I was asked in the pre-match press conference if this is the time for Dimitri Payet to step up and help us in such a big game.
We need him a lot in every game, especially when you are playing against a defence that has conceded so far the fewest goals in the Premier League.
Of course you need something special to score against them and you are expecting your best players to do it.
You need your characters to show their qualities, no matter if it is to defend, to fight, to tackle and win second balls or create something special and win games for you.
The next five games could not be any tougher. You don't have to be a genius to say that. We have made it even more difficult with the Cup game.
It is not a problem for me to say that we are not the favourites in any of those games.
But we showed last season and this season against Chelsea that when we play good we have a good chance against any team in the Premier League.
It's down to us how we are going to do it. I am optimistic.
Enjoy the game this evening.
Slaven