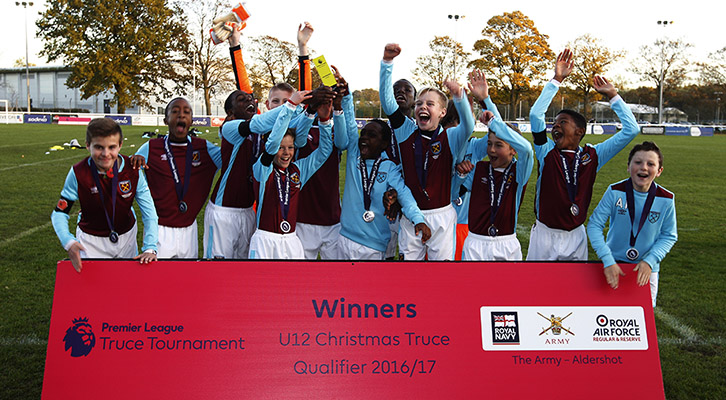 West Ham United's U12s have qualified for the finals of the Premier League's Truce Tournament, with the next stage taking place in December in Belgium.
The tournament forms part of the Premier League's 'Football Remembers' initiative and the regional qualifiers fittingly took place on Remembrance Sunday.
All teams that attended the qualifiers at Aldershot Army Garrison took part in a 2 minutes' silence and each team captain read out the names of soldiers who represented their clubs but sadly died in combat.
"The day for us was an educational experience. Before the tournament, the players were educated on why the tournament was taking place and who were we remembering," said U12 coach Dave Johnson.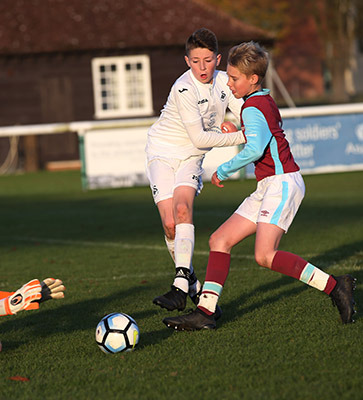 "Some of our players were born in 2004 and were remembering players from a long time ago. It was really important that they had an understanding of what Remembrance Sunday was and how it affected our club. The remembrance of the players was very important to us."
After the tributes were paid, the football started with the young Hammers drawn in a difficult group against Chelsea, Everton, Reading and Derby County.
However, they swept the floor with their group opponents, topping the table and winning all four matches which set up a qualification final against Swansea City.
The Hammers won that match meaning they were one of just four English clubs to qualify for the European finals of the tournament.
The youngsters will travel to Ypres, Belgium along with Crystal Palace, Manchester City and Blackburn Rovers to face Anderlecht, Club Brugge KV, Schalke 04 and Paris Saint-Germain between 8-11 December.
Their time at Ypres will be also be spent visiting the memorial to the unknown soldier and laying a wreath at the war graves nearby.
"It was a really good achievement and we only conceded two goals across the whole tournament," continued Johnson.
"It's a massive achievement for the boys. All the Premier League clubs take part in qualifying for this tournament so to be one of four clubs to qualifying for the finals is huge."
"We run over 40 tournaments for our Academy players so they can get different European experience so the event will supplement our tour programme."