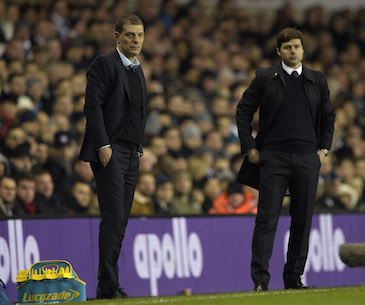 In part two of our exclusive interview Slaven Bilic looks ahead to a big London derby against Tottenham and says he hopes to make amends for the disappointing defeat at White Hart Lane last season.
Bilic is well aware of the importance surrounding the game and says he would love to see the players record another famous win in north London.
West Ham were the away day specialists in the early stages of last season following memorable victories over Arsenal, Liverpool and Manchester City and Bilic knows his team are capable of producing another similar result.
The Hammers manager knows exactly what this derby means to the fans and says the players will be ready to take on a Tottenham team who are challenging at the top of the table.
Bilic said: "It is always a big game against Spurs – maybe the biggest derby for West Ham.
"Last year we beat them at home, but lost at White Hart Lane. It is the start of five big games and it is important for us to have a good start after the international break and have a good result.
"We had some great away wins last year but I remember we had some injuries going into the game at Tottenham last year. We conceded a couple of early goals and we want to make up for last year.
"Tottenham are the only unbeaten team in the Premier League so we know what we are coming up against. They were title contenders last season and were with Leicester until a few games to go.
"They are still in the Champions League and Mauricio Pochettino has done a great job there. They have an energetic team with a lot of quality and we know it will be a tough game, but we are ready for it.
"We have improved a lot in recent weeks, but we are still not in a position that we want to be in.
"That is why we want a good result against Tottenham on Saturday and get something from the game."
Bilic will always have fond memories of White Hart Lane after he made his debut for West Ham in north London back in February 1996 and helped the Hammers came away with a memorable 1-0 victory.
The current Hammers management team played a big part in the goal as Julian Dicks shot was parried by Ian Walker and Dani fired the rebound into the back of the net.
It is always a big game against Spurs – maybe the biggest derby for West Ham.

Slaven Bilic
Bilic added: "It was my first game for West Ham and it was a great night. They had a really good team but we scored early on from a corner and it was a great debut. It gave everyone a big boost at the Club.
"It was a special night and I knew before the game how big it was going to be because I had been waiting for my work permit.
"When you play against Tottenham is it something special and I hope we can get a similar kind of result on Saturday!
"I have been involved in some big derbies during my career when I was in Croatia, Moscow and Turkey and this games rates up there with all of them.
"I have had a lot of people asking me about the game and telling me they want us to win!"