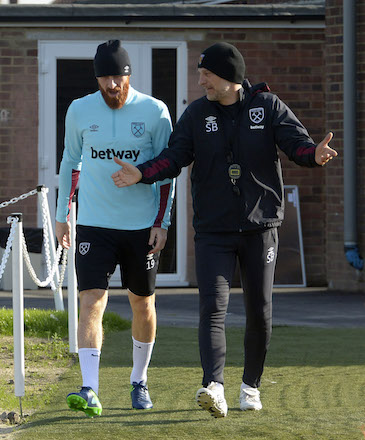 2016 will always be a year that
James Collins
will remember and it was a summer that will go down in the history books for Welsh football.
Wales defied all the odds to reach the semi-finals of the European Championship Finals and were the surprise package at the tournament in France.
Collins has returned to West Ham brimming with confidence and despite a frustrating start to the campaign, the experienced defender is convinced the team will turn things around and have another successful season....
You were forced to miss the recent game for Wales against Serbia. Can you tell us what happened and how the injury came about?
JC: "I played against Stoke and got a little calf strain late on in the game. I didn't think it was too bad and joined up with the Wales squad.
"I had a day off but I had the scan and it showed there was a little problem. I was very disappointed to miss the Serbia game."
With the way things are going for Wales at the moment following the success at the Euro Finals during the summer, was it even more disappointing to miss out on the game?
JC: "With everything that happened during the summer there is a great buzz around the camp at the moment. I have been playing for Wales for a long period and this is the best feeling I have ever experienced.
"I am getting to the latter stages of my international career and I want to be involved in every game. To miss it with such a small injury was very disappointing."
Do you feel under more pressure now when you are playing for Wales considering the success you had during the summer?
JC: "We had a meeting when I joined up with Wales and teams are showing us more respect now.
"With respect to the teams I have played in before, some opposition might have faced us thinking they were going to heavily beat us.
"But it is different now and you even have to look at the semi-final we played against Portugal in the Euros and they defended quite deep and showed us a lot of respect. It is tougher for us to break teams down."
 

There is no doubt it was one of the best moments of my career and and we could never dream that we would achieve what we did.

James Collins
You must take so much confidence from reaching a semi-final of a major tournament. Does that help you when you are now playing for West Ham and Wales and do you feel a slightly bigger player?
JC: "I am not the type of player to get big-headed and get carried away with what I achieved during the summer.
"There is no doubt it was one of the best moments of my career and it was great to be involved. We worked hard to get into the tournament and we could never dream that we would achieve what we did."
You obviously went into the Euros with a lot of confidence having had such a successful season at West Ham. Do you think the Club finished higher than what people anticipated?
JC: "I don't think we over-achieved. Maybe we got some better results early on than we first thought and that breeds confidence.
"We got some tremendous results against Arsenal, Liverpool and Manchester City.
"The signings we made were fantastic and it helped all the players around them feel better and we were challenging at the top."
What have you made of the move into London Stadium this season?
JC: "I think it is a great Stadium. For a Club heading in the direction that we want to go, this is a fitting venue.
"It is such a big Stadium and different to what we are used to but it is a tremendous ground and I know opposition players who speak very highly about. From a players point of view it is a tremendous place."
You have played with such great players during your career. How does Dimitri Payet rate among them?
JC: "Dimi is a tremendous player. What he did for West Ham last season was fantastic and he was the catalyst for everything we did.
"He was setting up goals, scoring goals and the manager made a real point when he signed Dimi.
"He makes other players around him more confident and then what he did for France during the summer took him to another level.
"I probably realised how good he was in the first couple of days when he put the ball through my legs and turned the other defenders before putting the ball past the keeper!
"If I am honest I didn't know too much about him when he first came but when I saw the things he could do, I knew he was a special player."