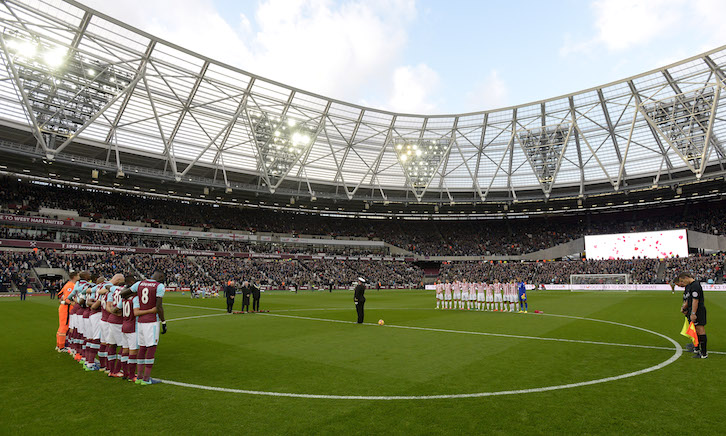 West Ham United have moved into a new home during the summer, but the Club will never forget those who have sacrificed themselves to secure and protect our freedom.
The Hammers have always planned special commemorations around Remembrance Day and this year was no different.
The fact that nearly 60,000 fans were able to take part inside London Stadium for the first time made it even more special and it was an emotional tribute from the West Ham supporters at the Stoke game last weekend.
The Romford Drum and Trumpet Corps performed on the London Stadium pitch in the build-up, while a Guard of Honour provided by G Company 7 Rifles, the army Reserve battalion based in West Ham, and the Royal British Legion saw the two teams come out onto the pitch.

Joint-Chairman David Gold, Mayor of Newham Sir Robin Wales and Stoke City Chairman Peter Coates then laid wreaths in the centre circle before an impeccable Minute Silence was held in memory of those who have been lost in conflict.
Ken Hill from the Royal British Legion in East Ham believes this was one of the best ever tributes from West Ham United and cannot thank the fans enough for their support.
Hill said: "The way the Club treated us was amazing. The way the bugle came across on the PA system inside the ground was very touching.
"Everyone really appreciated it and we could hear everyone talking about it. You could not hear a pin drop during the silence. The bigger the better as far as we are concerned.
"I thought this was one of the best ever tributes that West Ham have done.
"The Last Post gets me every time I hear it and it brings back memories of the guys who have fallen. That is the most important part of the service.
"A lot of credit to the fans for showing their respect and they do the same every year. They always give the troops a warm welcome."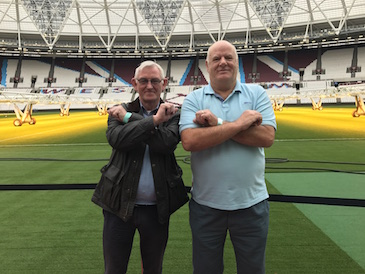 Hill says the British Legion have a special relationship with West Ham United and hopes it will continue for a number of years in the future.
Hill added: "I really like working with West Ham and we have a close relationship. It promotes the British Legion and everyone appreciates each other.
"I am a Season-Ticket holder and I love coming to London Stadium. It is a fantastic Stadium and the fans make it a special place.
"The fans seem to come over even earlier when we mark Remembrance Day to support everyone and see the band playing. This is something that could become even bigger over the next few years."