eSports
Hammers sign E-Sports star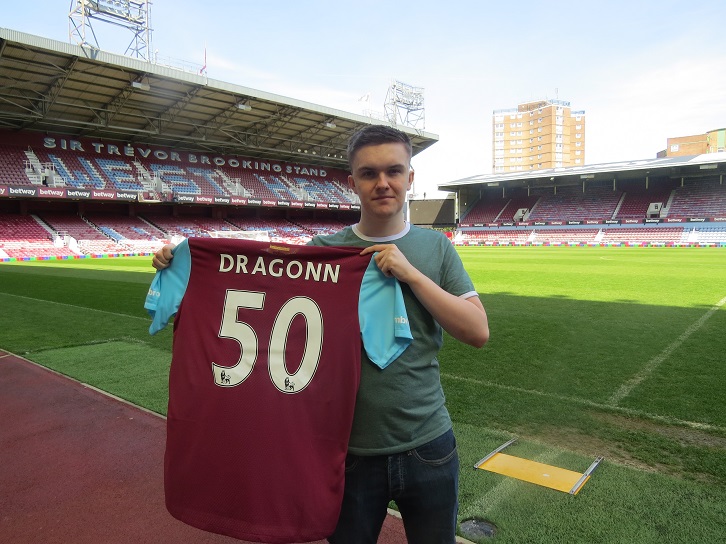 Sean 'Dragonn' Allen
West Ham United are delighted to announce the signing of the Hammers' first official e-sports player Sean Allen.

Allen, better known as Dragonn in the e-sports world, was runner up in the 2016 FIFA interactive World Cup. The new Hammers signing has been given the official squad number of 50 and will now represent the Club at all official e-sports tournaments.

In doing so, West Ham become the first football club in the United Kingdom to sign an official e-sports player, signalling the Hammers' exciting foray into the ever-growing world of e-sports.

Allen has qualified for every ranking FIFA E-Sports event this year and will enter the Play Like A Legend Grand Final this Saturday at the Gfinity Arena in Fulham, where Allen will officially don the Claret and Blue for the first time.

"I am delighted to be joining West Ham United as their official e-sports player," said 24-year-old Allen.

"This is a massive move forward for me. I have been playing competitive FIFA for a very long time and this is the biggest thing ever to happen to me.

"West Ham have had an astonishing season in the Premier League with Europe looking very likely for next season. I will be doing my very best in FIFA tournaments all around the world to emulate their success.

"After finishing second in the recent FIFA interactive World Cup, I plan to keep moving forward and, hopefully, with West Ham's help and support I will be doing exactly that!"
This is a massive move forward for me. I have been playing competitive FIFA for a very long time and this is the biggest thing ever to happen to me

Sean 'Dragonn' Allen
West Ham United manager Slaven Bilic was equally pleased to have secured the services of Allen. "This is a big move for West Ham United," he said. "I have heard that Sean is a big player in the e-sports arena so I am delighted that we have managed to secure his services.

"I hope he can now go on to represent the club with pride across the globe - he will certainly have the support of all the lads whenever he dons the claret and blue."

Karim Virani, Head of Digital Marketing at West Ham United, added: "E-sports is one of the fastest growing sports in the world, so we are delighted to have signed one of the world's leading players to represent us.

"We've been looking to sign an e-sports player for a while and Sean's performance in the FIFA Interactive World Cup really impressed us. Sean will spearhead our efforts to becoming a leader in this field.

"The digital game is incredibly popular with our fans, so we are really excited about what we have in store for them."

*Follow Dragonn on Twitter and Facebook now!