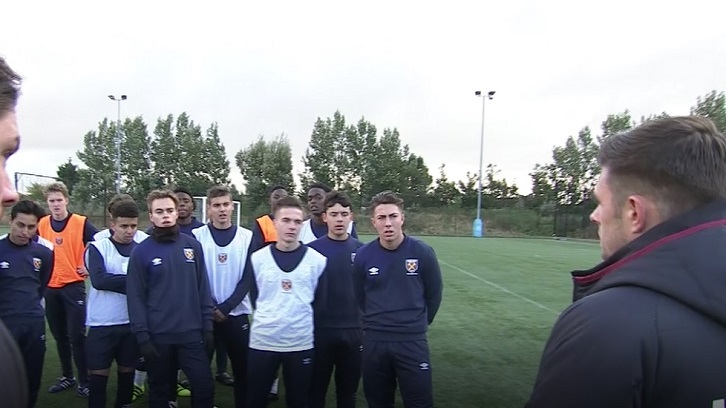 Aaron Cresswell visited West Ham United Foundation's Academy Second Chance Programme
Left-back shared his own career history, which saw him released by Liverpool at 15
Programme gives teenagers a chance to combine education and football
Aaron Cresswell has shared the story of his circuitous route to becoming a professional footballer with teenagers hoping to follow in his illustrious footsteps.

The Hammers' newest England call-up spent a morning with youngsters on West Ham United Foundation's Academy Second Chance Programme at Chadwell Heath.

The scheme, run in partnership with SCL Education Through Sport, sees 16-18 year olds partake in a two-year, full-time education and development programme, with the aim of setting them up for later life.

All those completing the course attain a BTEC Level 3 Diploma in Sport, combining their studies with daily training sessions and matches in the Conference Youth Alliance and FA Youth Cup.

The ultimate aim of those taking part is to be picked up by professional or semi-professional football clubs, pursue a role in coaching or the sport and leisure industry, or head off to university to gain further qualifications.
My message to you would be the same, just don't stop! Good luck and keep on working

Aaron Cresswell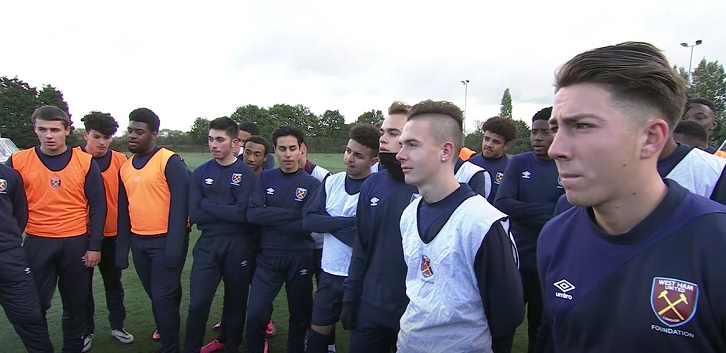 Cresswell told the students how his own career appeared to be over when he was released by Liverpool at the age of 15, returning to play local football with his friends before being scouted and given a second chance to make it by EFL club Tranmere Rovers.

"It's very important that these lads stay involved in football in some way as some of them have been released by clubs, so it's a good programme that the Foundation runs with 50 per cent education and 50 per cent football, so I'm sure they're delighted with that," said the No3.

"I enjoying being involved in the Foundation and their work. There are 30 or 40 lads out there and, you never know, one of them might get a second chance with West Ham and get to go into the youth team and show what they can do."

After overseeing a training session, Cresswell explained how he had bounced back from being released to spent time answering questions from the aspiring young footballers.

"I had a similar sort of background to you lads," he revealed. "I was at Liverpool when I was 14 to 15 and got released and thought the road was over and didn't know what to do.

"My Dad said to me 'Look, go and enjoy your football' and my message to you would be the same, just don't stop! Good luck and keep on working."

For more information about the West Ham United Foundation Academy Second Chance Programme, click here.