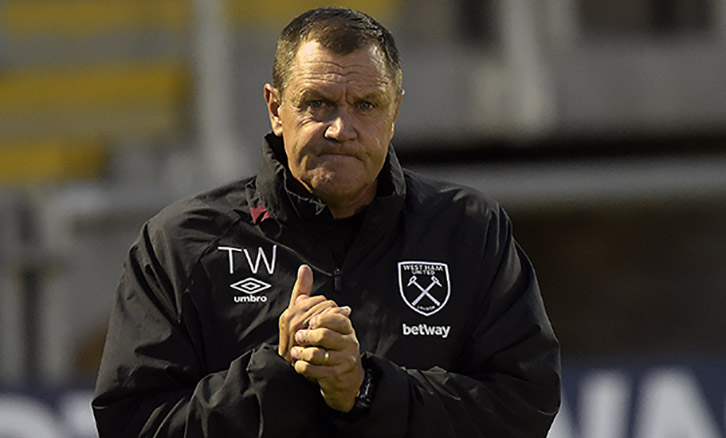 West Ham United PL2 made it two wins from two in the Premier League Cup after defeating Nottingham Forest 2-1 on Friday evening
Jahmal Hector-Ingram deflected in the first before Marcus Browne finished a rebound from a Domingos Quina strike
Manager Terry Westley hopes his players will use the match as a learning curve
Terry Westley admitted West Ham United PL2's victory over Nottingham Forest was difficult at times but said his team had the edge in the crucial stages.
 
Marcus Browne's late winner came after a frantic match with goalkeeper Raphael Spiegel producing a string of sublime saves to keep the Hammers in the contest.
 
Forest's Ben Brereton headed in from close range to give the home side the lead, but the Hammers hit back soon after with Jahmal Hector-Ingram subconsciously diverting Browne's effort into the net.
 
Browne scored the decisive goal just four minutes from time after Domingos Quina had a shot parried away and Westley said afterwards his team just had the edge on their opponents.
 
"Nottingham Forest made it very difficult for us in long periods of that game. I just felt we had the edge," he said.
 
"Even when we went a goal down, I felt we would just have enough to come through in the end, and that's how it panned out."
 
"It's a learning curve and we've got a young side – six of our starting eleven were under 18. We will learn that you can't just play where we want to play. Wherever you go, the opposition will make it difficult for you.
 
"I'd probably praise our goalkeeper. He kept us in it a few times and our two centre halves were solid again. They're the stand out players tonight."
Nottingham Forest made it very difficult for us in long periods of that game. I just felt we had the edge
Terry Westley
It's now two wins from two in the Premier League Cup for the Hammers as they have taken firm control of Group E.
 
The games are coming thick and fast for Westley's side as they immediately begin preparations for their third game in a week against Northampton Town on Tuesday night in the Checkatrade Trophy.
 
"It's a good games programme this year. The Premier League should be congratulated for that. There's regular football and we're not going months without a game," added Westley.
 
"We are preparing these players to either go on loan or play for our First Team. If you're on loan in the Championship, you play Tuesday and Saturday so you have to ready to play at that level.
 
"We've played two Cup games in our League and we've won both. We should be top of our group, with Brighton to look forward to. We want to progress in this because we are the holders.