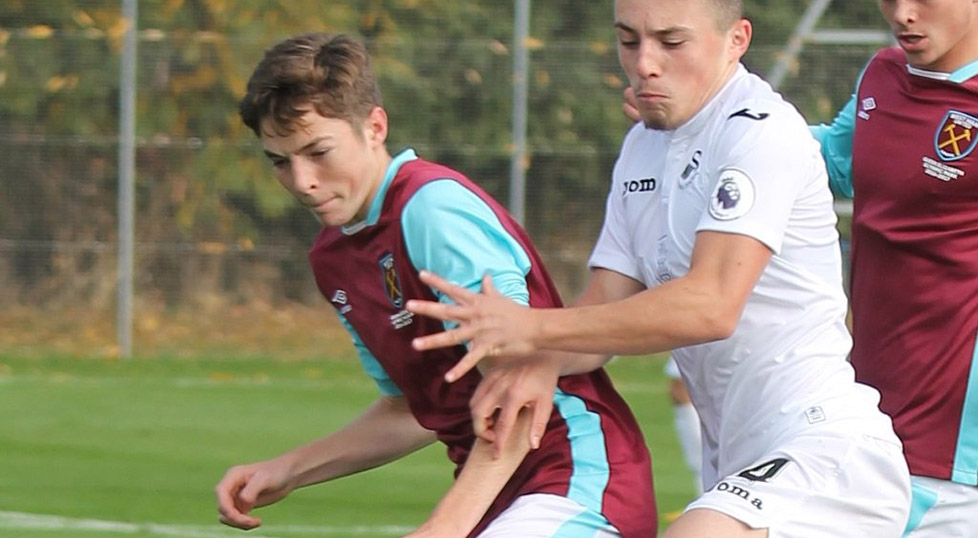 West Ham United U18s face Arsenal this Saturday at Little Heath (11am)
The Hammers are currently top of the league with their opponents just behind them in second
Midfielder Conor Coventry thinks the team cannot wait for the first whistle
Conor Coventry believes every player in the U18 dressing room is relishing this weekend's top of the table clash with Arsenal.
 
The Hammers lead the way in the U18 Premier League South and face their London rivals on Saturday (11am) who are currently second in the table.
 
After three wins on the bounce, Coventry thinks the Hammers should stick to their philosophy in this weekend's intriguing match-up.
 
"We need to keep doing what we've been doing. We aren't going to change for them, we'll let them worry about us because we've been playing some good football," he said.
 
"Confidence is quite high in the dressing room. All the boys are looking forward to the game and we want to stay at the top of the league."
We aren't going to change for them, we'll let them worry about us
Conor Coventry
Coventry has had a busy few weeks – he made three appearances for the Republic of Ireland U17s during the recent international break.
 
In the process, he helped them reach the Elite Phase of UEFA U17 European Championship qualifying and says the whole experience is beneficial.
 
"It's been an honour to play for them, there's always a lot of pride within the squad. It helps because it's another tactical approach and a different type of game," added Coventry.
 
"I'm really looking forward to the next round of qualifiers. The styles in play (between Ireland U17s and West Ham) aren't too dissimilar. Both teams like to get the ball down and play, both like to press. I think it's just subtle differences."
 
The U18 Hammers were boosted this week by the news that Ben Johnson will be available for selection this weekend despite his red card last Saturday in the victory over Aston Villa.
 
Anthony Scully is also available after recovering from a recent illness and Coventry believes they will continue their fine start to the season this weekend.
 
"It was a big win (v Aston Villa) but a very tough game, especially having ten men in the second half. We didn't have a lot of the ball like we normally do. But we defended really well and got a good result.
 
"It's been a very good season so far – not just the wins but we've been playing some good stuff as well and we just want to keep that going and the results going as well."

The Hammers' match with Arsenal in the U18 Premier League South kicks off at 11am on Saturday at Little Heath Training Ground. Admission and parking are both free.