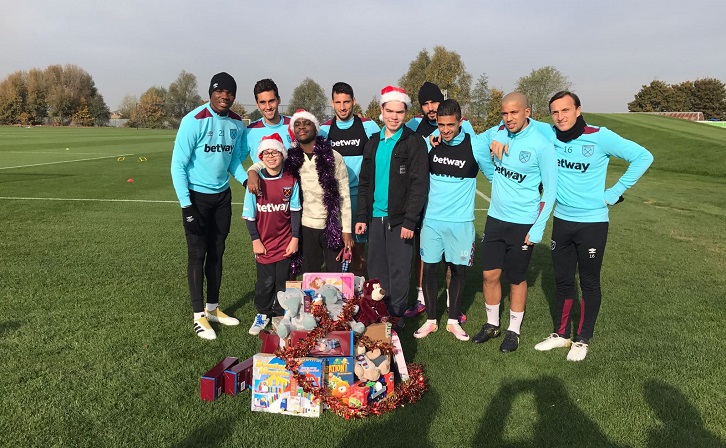 Andy Carroll welcomed three avid West Ham United fans from Arc in the Park, a local inclusive centre for young adults with learning difficulties, to Rush Green for a special training ground visit.
 
The striker was in good spirits as he posed for photos with the trio and he capped off a hugely successful visit by donating a pair of his match-worn boots to all three of the visitors.   
 
Alex, Darryl and Champ, all huge Hammers, enjoyed a hugely exciting day out as they got the opportunity to meet Carroll and their other heroes, while also collecting gifts donated by the squad for local youngsters on behalf of the Newham Recorder's Christmas Toy Appeal.
 
For more than 30 years, the Recorder has run a Christmas Toy Appeal, which helps collect thousands of toys to give out to 3,000 underprivileged children from across Newham.
 
Darryl, 17, who suffers from Global Development Delay and learning difficulties, was ecstatic to meet his idol Dimitri Payet, neatly surmising: "It was really good!"
 
Darryl's day was made even better when he received a surprise phone call from The Moose, Talksport's esteemed presenter, the pair chatting away happily about all things Claret and Blue.
 
Similarly, Alex, 16, who has autism, was equally delighted: "It was fantastic to meet Manuel Lanzini because he's my favourite player. It was lovely seeing them all today."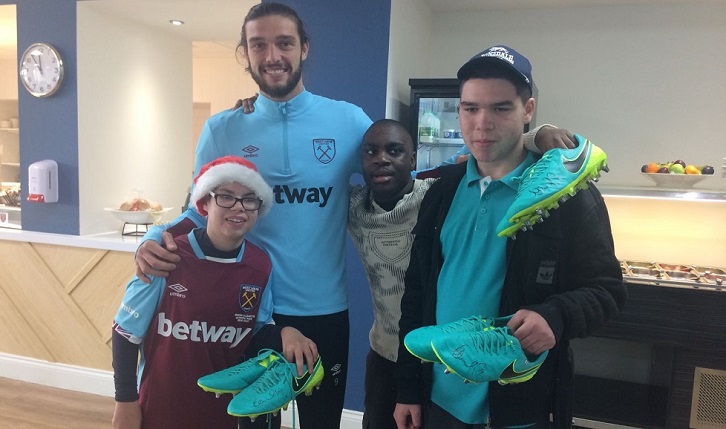 After meeting the trio, Carroll reflected: "It was fantastic to meet Alex, Champ and Darryl, you can see how passionate they are about West Ham and how excited they were to meet the lads.
 
"Alex told me I needed a haircut, and he's probably right!
 
"It's always great to spend time with the younger fans and put a smile on their faces. I was more than happy to give them each a pair of my boots, it's such an easy thing for us to do, but it makes a big difference."
 
Click here for more information about how you can make a donation to the Recorder's Christmas Toy Appeal.