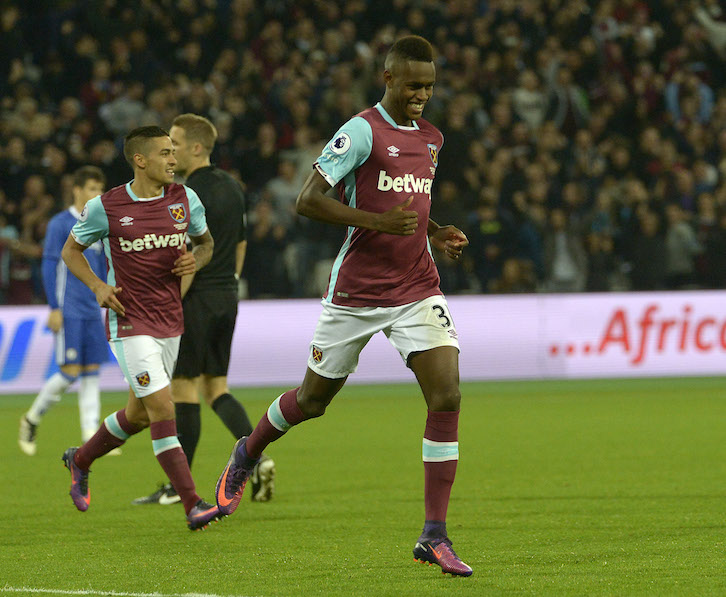 It
 has been a dream start to life in England for Edimilson Fernandes and he has played a major role in the Hammers revival in recent games.
Fernandes arrived with a big pedigree following his move from FC Sion during the summer and has already shown his quality and versatility playing in a number of different positions and getting on the scoresheet during the memorable EFL Cup win over Chelsea.
The Switzerland U21 international is now hoping to build on his early success and become a major star for the east London Club over the next few years....
Edimilson, it has been an incredible start to your career in the Premier League. Can you tell us about your introduction to top flight football and why you chose to make the big move to England?
EF:
 "I was 17 when I made my debut in the Swiss Super League. Playing first-team football at that age was a shock to me, but it all started from there and my career has continued to grow.  
"I always had the ambition of coming to play in the Premier League, but I never imagine it would be possible.  
"I watched the Premier League on television in Switzerland a lot. I watched Manchester United and enjoyed watching them and their players. My cousin Gelson played for Manchester City and I also liked them, but I preferred Manchester United!"    
You have a big footballing influence in your family with your cousins Gelson and Manuel having experience of playing in England. How often do you speak with them and did they influence your decision to join West Ham?
EF:
 "I spoke to my cousin Gelson before I joined West Ham. In fact, I speak to Gelson every day about living in England and the Premier League, and we both agree it's one of the best leagues in the world.  
"All of the advice he has given me has been really useful, and everything he has told me about English football has come true. Unfortunately, Manuel doesn't speak French, so I have not spoken to him!"    
Have you ever played in the same team as Gelson and how much would you love to play for the Switzerland at a major tournament?
EF:
 "I have trained together with Gelson with the national team, but we've never played together in a team.  
"I was called-up asked to train with the squad, but I have not played for Switzerland just yet. If I continue to play for West Ham, for my club, then after that then the opportunity came to play for the national team, that would be great.  
"Although we don't play the same way, if I could achieve what he has achieved in his career, that would be amazing. If could do more, that would be even better!"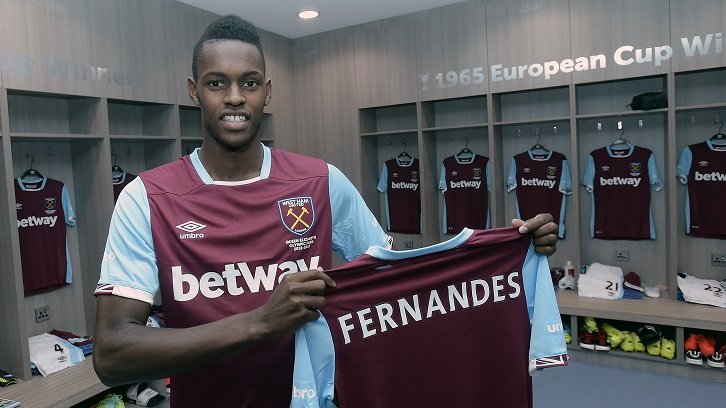 How much have you been impressed with London Stadium and playing in front of nearly 60,000 fans. How big a part did that play in your decision to join the Hammers?
 
EF: "When I came over for the first time, they took me to see the Stadium and I really like it. The Stadium is magnificent, I really enjoy playing there, as do all the players.
 
"When you play in front of 57,000 fans it gives you goosebumps, it's an amazing feeling and it helps you to play to your best.
 
"It is a brilliant Stadium and to play in front of 57,000 fans who push you forward is an unbelievable feeling."
 
 
You seem to have wasted no time settling into your new surroundings and feel very confident on the pitch. How much has it helped you having players who can speak French in the dressing room? 
 
EF: "It really helps to have them here, and to be honest I didn't realise there were so many French speakers at the Club, but it is obvious that is going to be really helpful to me.
 
"We have Dimitri Payet, Cheik Kouyate, Diafra Sakho, Sofiane Feghouli, Arthur Masuaku and Andre Ayew, so there are lots of us who can communicate easily."
 
 
 Did you think you would make such an impact so early on in your career at West Ham and force your way into the starting line-up?
 
EF: "When West Ham wanted to sign me, the manager told me that he was going to count on me, but that I needed to work hard in training to get into the team.
 
"At the start I was afraid to leave my old club, so I spoke to the president and the club and took the plane over to West Ham. In the beginning it was very scary, but now it's great."