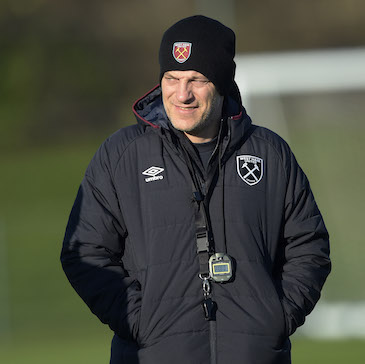 Good morning everyone,
We are approaching the end of 2016 and it would be great if we could end the year with another big victory against Leicester today.
I want to build on the performance, especially the recent one against Swansea that was really good and not to lose confidence.
We've had 10 points from four games and we know it will be extremely hard against Leicester. We are in good form and we are very positive. We have to do everything we can continue this.
I was asked about Michail Antonio in the pre-match press conference and the fact he can break a Premier League record for the most headed goals in a calendar year if he scores against Leicester on Saturday.
It is already a hell of an achievement. He is a big player. He deserves everything and is always there to score goals.
Every time I turn to my staff and ask who has scored a goal, they say it is always Antonio when you didn't notice.
I said it last year that he is a great example and a great motivation for young kids. There are other players like Jamie Vardy. He is brilliant.
I would not say that we taught him to score. It's his sheer determination, his hunger. It was like Reidy's goal that you saw on Match of the Day, he wanted it so badly. It was his determination to get there and say to himself I am going to score.
Michail is very good at running back but basically he wants to be in the box. He is very versatile and that is why we got him.
It's not like some people ask why are you putting him there and there and there. It's for the team.
His best position? First I would say centre forward because he scores goal but then again he is very good on the wing.
If we play three at the back , he is there and can play right wing back especially in a team that is attacking.
He doesn't like to play right back but he has the ability to do it. So he is very versatile.
You have to keep him close to the box when we have the ball because his stats are unbelievable.
If you take him away from the box you will lose his goals, that could be ten, 15, 20 goals a season - nobody wants that.
It is already a hell of an achievement. He is a big player. He deserves everything and is always there to score goals.

Slaven Bilic
I was also asked about the possibility of Riyad Mahrez being back to face us on Saturday and Claudio Ranieri's reported comments on his recent performances.
I am trying not to mention names since I started this job. When you criticise, you should go in general to the whole team and all that. Today the media reacts to those kind of things.
For me, what Ranieri said, and what a couple of other managers have said during the season, about players, is normal. What did he say about Mahrez? He only said that he expects more from him because he is the player of the year. He didn't say something bad.
He rates him as a player, he rates him even with this statement. He expects him to do better because he knows what he can do. For me, there is nothing wrong with it to be fair. Nothing. Zero.
He was only explaining the reason.
At the end of the day, the question was why he didn't play. What should he say? That he didn't pick him because of what? He didn't pick him because he expects more from him. For me, this is only to motivate the player
I would like him to be rested again! Of course, he is a top player. And I think the whole team is going to be on their toes after the defeat against Everton.
It's a big blow for us to be losing Andre Ayew ahead of the Africa Cup of Nations. Sofiane Feghouli also came up really good and looks good in training. He now looks like he has settled in.
It's a big blow especially for Ayew who was out injured long-term. Now he is back and is building his match fitness. The Africa Cup of Nations it is a big tournament and of course we are disappointed but what can we do?
I want to wish all our fans a happy and healthy new year and a safe trip for all the fans who are travelling to Leicester today.
Enjoy the game.
Slaven