Slaven Bilic has no doubts that Leicester will get their season back on track and is expecting another tough encounter at the King Power Stadium on Saturday.
After defying all the odds to win the Premier League last season, the Midlands club have failed to reach the same standards this season and are languishing just outside the bottom three.
But despite their position in the table, the Hammers manager has no question that Claudio Ranieri's side have the quality in the team to turn their season around and will be looking to end 2016 on a high note.
Bilic said: "Leicester were a miracle last season. It was a big achievement and one of the biggest in football history.
"It was very difficult for the manager to maintain that level of keeping everything positive.
"The Champions League did not help them although they have done tremendously well in the competition.
"In the Premier League they are in a position where no-one is happy but there is a long way to go.
"They have the quality and the resources, they should be alright. But there is no free lunch. Considering where Leicester were four seasons ago it's quite a normal situation for them."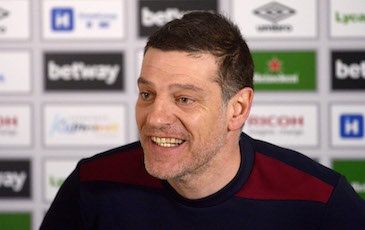 The Hammers head into the game full of confidence following their impressive Boxing Day victory over Swansea at the Liberty Stadium.
After making it three consecutive wins, Bilic is now hoping to see his side record another positive result and help them move into the top half of the table.
Bilic added: "I want to build on the performance, especially the recent one against Swansea, that was really good and not to lose confidence.
"We've had 10 points from four games and we know it will be extremely hard against Leicester. We are in good form and we are very positive. We have to do everything we can continue this.
"The confidence is back and fitness is back and you don't want it to stop. But you know it won't last for ever. You never know in the Premier League, you know you are facing good teams but you have to continue to play like this."