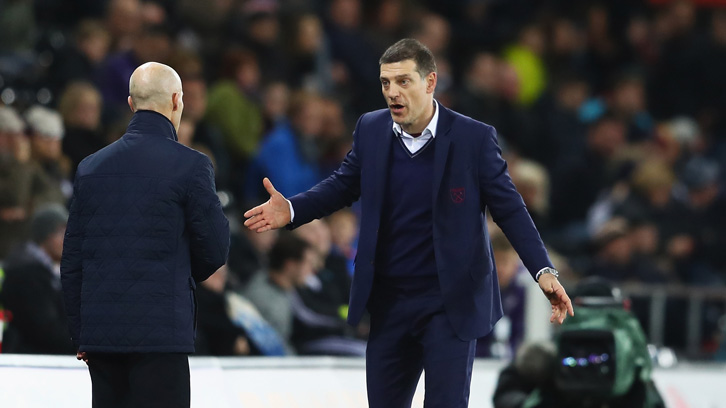 Slaven Bilic believes West Ham's four-goal display at Swansea City on Boxing Day was the result of the hard graft shown against Burnley and Hull City.
Those home victories in the week before Christmas did not contain the lethal goalscoring of Monday, but they did not lack resilience and heart.
And it was those characteristics which allowed the Hammers the freedom to go out and put Swansea to the sword, according to the boss.
West Ham have now taken ten points from a possible twelve and Bilic is delighted with that swift turnaround in form.
He explained: "There are a few corners in the Premier League, 38 of them. The situation now is totally different now from what it was a few weeks ago, when we were talking about the schedule of Spurs, Man United, Man United, Arsenal and Liverpool.
"We were talking about those crucial two home games against Hull and Burnley. We didn't expect them to be easy and we had to really work, but it gave us six points together with the seventh from Liverpool and that gave us confidence.
"Now, that confidence was obvious with the display at Swansea. What we can't do now is just think who is above us, still it is very tight, but we have to use this to gain more confidence and build on these ten points – continuing to work and improve."
Of the performance in South Wales, Bilic was especially pleased to see both sides of the visitors' game working in unison on the way to maximum points.
He added: "We played really good from first whistle to the end. We defended well with numbers, with aggression and on our toes, not giving them enough time and space for players especially like Sigurdsson to do something special.
"Then, when we had the ball we were really dangerous. We hurt them.
"I'm very pleased for the guys, it was a very good performance, and to go to Swansea and win in style – 4-1 – makes it a really good day for us."