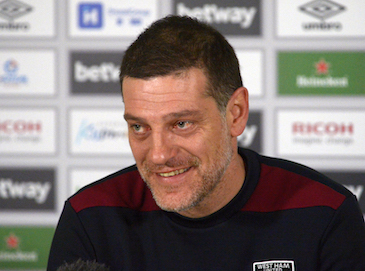 Good morning everyone,
After taking seven points from our last three games we all know the importance of getting another positive result when we face Swansea today.
A lot has been said about the performance against Hull in the last game and I'm hoping to see us more fluid with the ball and have more movement off the ball.
We need to take more responsibility. It has nothing to do with fitness, nothing to do with a game plan, but has a lot to do with the freedom in your head or in your legs of course.
This will be a big day for Andre Ayew going back to his former club for the first time since he joined us last summer.
To be fair he had a big injury and came back a few weeks ago. Now he needs to train and he needs games to be the Ayew from last season or two seasons ago. He's getting back.
He's becoming better than he what he showed in his first game and it's only a matter of time.
I was asked in the pre-match press conference about the pressure that Bob Bradley is currently facing at Swansea.
I have feelings for all the managers and there is no manager who hasn't been under pressure in the Premier League this season.
Even Antonio Conte was under pressure for a couple of weeks. So is Bradley, so am I. You were under pressure or you're going to be under pressure.
You enjoy it when you are not under pressure and learn from the time when you are under pressure.
Bob is an experienced manager and they all have those kind of methods to deal with the pressure.
I was also asked about Gylfi Sigurdsson and the threat he will pose to us on Monday.
Football is not about one player, every club has best players. You cannot win with just Michael Jordan. Gylfi is a great player, very consistent.
When they are closer to the goal he is real and very dangerous. They showed a couple of games they are very dangerous at home.
They have good delivery from set pieces and the flanks from open play. They work well from the back and we have to defend well against them. They have quality, pace and we have to exploit their weaknesses they showed as a team when we don't have the ball.
I hope all our fans have a safe trip to south Wales today and hope we can come away with another big three points.
Enjoy the game.
Slaven