Andy Carroll is hoping history can repeat itself and he can score another wonder goal at Liberty Stadium on Boxing Day as he looks to help the Hammers maintain their unbeaten winning run.
Carroll enjoyed a memorable visit to south Wales back in January 2015 when he scored one of the best goals of his career after superbly taking the ball down and showed a great piece of skill to curl an unstoppable shot into the roof of the net.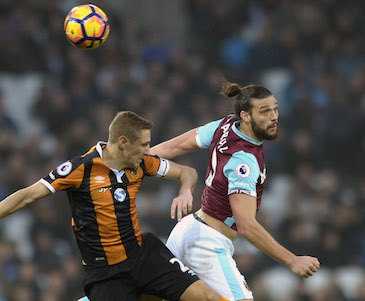 The Hammers striker certainly enjoys playing against Swansea having scored four goals in his last five games and will be hoping to get back among the goals following a frustrating start to the first half of the season.
Carroll has now made a full recovery from a knee injury and having started the last two games against Burnley and Hull, he hopes to get a regular run in the first-team and help his side move into the top half of the table.
Carroll said: "I am over the moon to be back in action and it has been a long time. Hopefully I can keep fit and get back among the goals.
"I scored a nice goal against Swansea in my last game there and hopefully I can repeat that on Monday.
"It has been tough for us with the run of games we have faced. We had a hard run and then faced Burnley and Hull at home which were also tough games.
"We knew we should be winning those kind of games and are delighted to have come away with six points and a draw at Liverpool.
"The lads are delighted with the results we have picked up in the last few games and we will take that every week if we keep coming away with the three points."
Having played two difficult fixtures against Burnley and Hull, Carrrol is now expecting another tough encounter against a Swansea side who are fighting to get out of the bottom three.
Carroll added: "We know it is going to be a hard game and every game in the Premier League is tough. You could see that when we played Burnley and Hull and they were probably as hard as any game we have faced. We know it will be the same when we face Swansea.
"Hopefully we can go into the New Year with some more victories behind us and we just need to keep doing our best.
"We know we need to do better than what we have done in the first half of the season and we know we can do better. As a team we want to move higher up the league and not give away sloppy points.
"For myself I want to get among the goals and keep myself fit."