Interviews
Antonio - Performances are picking up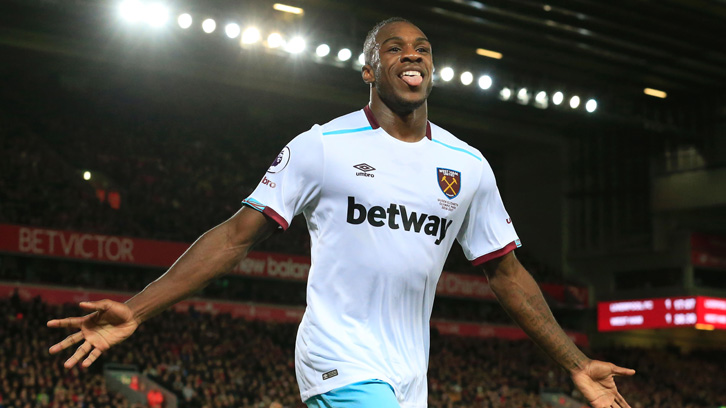 Michail Antonio insists the Christmas spirit is well and truly alive in the West Ham United dressing room as the players prepare to head to Swansea City on Boxing Day.
Seven points from a possible nine in their last three matches has lifted Slaven Bilic's men into 13th place in the Premier League table – just five points behind Southampton in seventh – and our leading goalscorer believes that confidence will be high at the Liberty Stadium.
"There is definitely a feel-good factor around the place at the moment," says Antonio. "We've started to get results when we feel we should be getting them, and the performances are picking up.
"We've got to keep it going now and build the confidence, hopefully with another three points at Swansea.
"It's been a great year for me personally but I've got to keep performing," he added. "That's one thing I've always told myself, that I've got to keep working hard, and keep up those levels."
Monday's trip to South Wales gives Antonio an opportunity to add to his tally of seven Premier League goals this season – six of which have been scored with his head.
The 26-year-old has already equalled the Premier League record for most headed goals in a calendar year – a total of 11 that he shares with former Everton star Tim Cahill – while he is now just three short of the season record of nine, currently held by another ex-Everton man, Duncan Ferguson.
According to Michail, however, he should actually be only two short, having considered his effort against Stoke on November 5 to have been wrongly awarded as an own-goal. 
"I should be on seven!" he laughs. "I think some other strikers might have been given that goal but, hey, things don't always go your way, and I'll just have to make sure I do it another day.
"The fact that the record is there for me to break does mean a lot, and it's something that I am now determined to do. There are some great strikers on the list and it's an honour to be on there with them.
"The heading is something that I've worked hard on over the years, it's all about timing, finding the space and keeping your eyes open. The main thing is that the team win of course, but I would love to break that record."
Michail was speaking during his visit to the Newham University Hospital this week when, along with some of his Hammers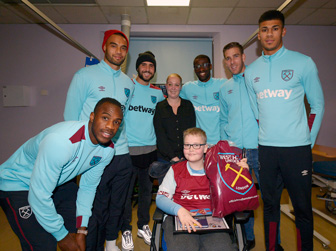 team-mates, he helped put a smile on the faces of some young Hammers fans who face spending Christmas in hospital.
"It's so difficult for those families," said Michail. "I had to do it myself when we had our first child, who arrived six weeks early. We had to spend Christmas Day in hospital and it's just a terrible feeling,
"To be able to come here and just give the kids a few presents and sign some autographs, which puts a smile on their faces and gives them a bit of enjoyment, is a great feeling.
"It's great to be in a position to be able to do that, and it's something that should never, ever change in football."