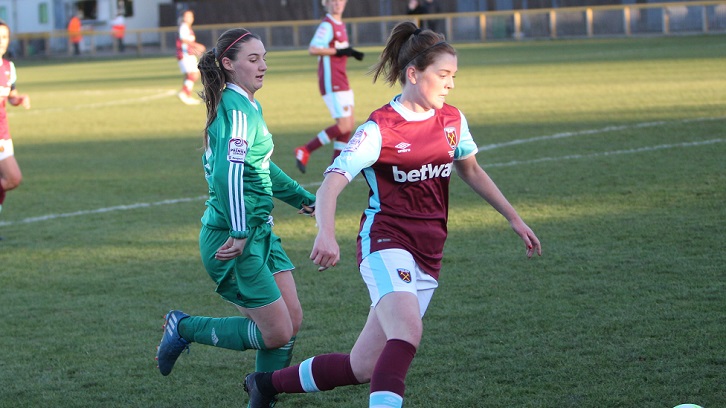 West Ham United Ladies ended 2016 on a low point with a 2-1 FA Women's Premier League South defeat by Queens Park Rangers at Thurrock FC.
The Super Hoops arrived at Ship Lane winless and bottom of the table, but drew level on points with Greg de Carnys's side with a hard-fought victory.
The Hammers dominated for long periods, moving the ball around confidently and creating shooting chances for forwards Whitney Locke and Chloe Burr, albeit from long range.
It was from another effort from outside the penalty area that the hosts eventually broke the deadlock, with Dayna Chong's shot proving too powerful for the QPR goalkeeper.
West Ham held their opponents to half-chances in the opening 45 minutes and could have doubled their lead, only for Charlotte Long to steer Burr's cross wide of the target.
Into the second half and the home side's dominance continued, with defenders Hannah Wheeler and Jasmine Auguste effectively shackling their opponents, while captain Amy Cooper and Shannon Albuery controlled the midfield.
The game changed on the hour-mark when Ellie Mags bundled in an equaliser, giving QPR a boost that ended with Jenny Critch putting them ahead after a save from goalkeeper Latoya Smith.
Wheeler was then sent-off late on to complete a disappointing afternoon.
"In the first half we showed what we are all about we dominated the ball, we created chances and I think 1-0 probably flattered them, so there were loads of positives," said the manager.
"However, in the second half for whatever reason it became more difficult for us. It was more of a scrappy game which didn't suit us, but we know that we need to improve in maintaining a hold on the game and keeping the game going the way that we want it."
"Sometimes that's technical and tactical, but sometimes that's psychologically keeping control of the game. That's something that we continue to take as a learning experience.
"We're getting more and more chances and now the next step is to try and turn them into goals and wins."
The Ladies kick-off 2017 with a league trip to Crystal Palace on Sunday at 2pm.