Angelo Ogbonna capped a dream week with another big win over Hull on Saturday and is now looking forward to spending his first Christmas as a father.
Ogbonna was thrilled to see his side record back-to-back victories and has enjoyed a memorable few days after his fiancé gave birth to a baby boy called Samuel.
The Italian defender was determined to end the week on a high note and despite the Hammers not producing their best performance, they still showed the character to come away with a crucial 1-0 victory.
Ogbonna is now hoping the Hammers can enjoy a festive Christmas period and enjoy a second half to the season as they look to move towards the top half of the table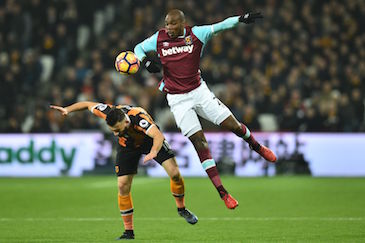 Ogbonna said: "It has been a very lucky week for me and my family. I am so proud to have become a father and I want to say a big thank you to my fiancée and it is very important.
"We are so happy to get seven points and we should not forget the point we got at Anfield last week which was really important.
"We have to keep going and stay concentrated. We didn't play well against Hull but the most important thing is the three points and hopefully we will play better in the next game.
"I want to talk about our position in the table which was better than the performance. We are staying positive because we got three points and it is so important for everyone. The fans stayed behind us and this is football.
"I don't know how much this will turn our season around. I want to stay focused on the present because sometimes our mistake was sometimes setting our expectations too high and we have to stay focused on the next game."