The Club's Academy handed over their substantial donation of Christmas toys over to two separate appeals this week
First, Time Radio benefitted from the Hammers' generosity before members of the coaching and playing staff visited the Salvation Army
West Ham TV went along to the presentation of gifts and caught up with those who played a huge role in the appeal
The Academy of Football did their bit to help those who are less fortunate this Christmas by donating hundreds of children's toys to two separate toy appeals this week.
First, the Club teamed up with Time Radio – based in Romford – to hand over half their generous donation of toys before visiting the Salvation Army UK base in south London to present the remainder of their contribution.
With so many from the Academy either providing the collection at Chadwell Heath with a children's toy, or digging deep into their pockets to contribute some money towards the cause, an impressive assortment of gifts was gathered.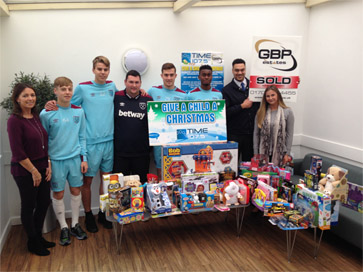 Young Hammers Dan Kemp, Jahmal Hector-Ingram and Josh Pask, alongside coach Liam Manning and kit man Andy Tyson went along to the Salvation Army, who were delighted with the contribution.
UK leader of the charity Clive Adams said: "We're always grateful when people come to us with support like this, which enables us to do our work. But it's especially good to see young people with a profession that they're focused on, giving some time.
"As role models, those young people encourage other young people to do the same thing. So it's especially good to see these young people from West Ham doing this.
"I don't think it's news to anyone that there are a lot of people in our day who are struggling all over the place. In particular, though, in the area where West Ham is.
"There will be people who we have regular contact with – people who come to our food banks, our church services, our debt advice offices – there are many people in need.
"They might not be able to spare the extra pennies to offer their children something special for Christmas, so this becomes very important for those people."
Kit man Andy Tyson, who with ladies manager and Academy coach Greg De Carnys played a huge role in organising the toy appeal at Chadwell Heath, told West Ham TV why it was great to play a part in the cause.
"It's just brilliant," he said. "Seeing how many of the lads have brought in a present or donated some money to the cause, it's nice that when we now put them under the tree, it's great to see. They are going to go somewhere they will be appreciated. It's been a good afternoon.
"I'm sad to see some of the toys go! But, somebody else is going to be benefitting from them and that's the most important thing.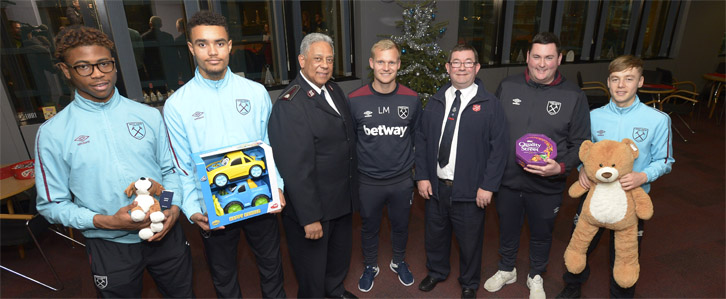 "Everyone in the Academy, players and staff, they've all made such an amazing contribution to a wonderful cause.
"Whether that's a present or a donation of money, it shows you how much they're thinking about other people at this time of year and I think that's so important."
Finally, defender Pask, who is recovering from an injury which halted his impressive progress on loan at Gillingham, explained why it was personally special for him to visit the Salvation Army.
The youngster said: "It's great. This place is like a second work place for me as my Dad works here and I did some work experience here.
"It's good to come back and obviously see some faces that I knew previously. It's also to give some presents back to those in our community.
"A lot of people go through some highs at Christmas but for some people there are big lows and some are very lonely. Any help we can offer by giving back to the community with things like this is great.
"It was also good to come into Chadwell Heath and see those presents there every morning; it was colourful! Just before we walk into the changing rooms, there was a massive pool of presents there for quite a while, so it was great to see."