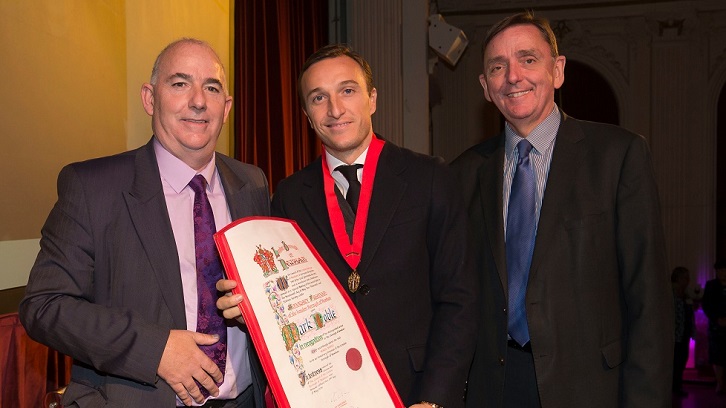 Mark Noble bestowed with honour of Freedom of the London Borough of Newham
West Ham United captain among eight local people honoured at a ceremony in Stratford
Skipper was born and raised in Canning Town and attended Royal Docks School in Custom House
West Ham United captain Mark Noble was bestowed with the honour of the Freedom of the London Borough of Newham during an official reception at the Old Town Hall in Stratford on Thursday.
The Canning Town-born player, who is the Hammers' longest-serving player and all-time Premier League appearance record holder, was bestowed with Newham's highest honour by Mayor Sir Robin Wales.
Freedom of the Borough is a way of expressing civic pride and recognising contributions to the borough, making the 29-year-old former Royal Docks School pupil a truly fitting recipient.
Watched by his family, the majority of whom were also born and raised in Newham, the No16 received an embossed scroll and a medal and also signed the borough's official freedom book.
"I'd like to thank Newham Council not just for the honour of Freedom of the Borough, but for all the work it does day in, day out, for local people," said Noble, who scored his first goal at West Ham's new London Stadium home on Wednesday evening.
"Newham is a wonderful place to grow up. It is where I learned to be a man. I had an incredible upbringing thanks to my family. I've achieved a lot of things in my life through football and with West Ham United but this is one of the best things that has happened to me. I am honoured to accept freedom of the borough on behalf of my family. This is an incredible moment for them.
"As a kid I learned to play football on the street by trying to kick down all the 'no ball games' signs that were chucked up everywhere. Football has provided an incredible life for me and my family. Newham is a wonderful place to learn a trade."
I'd like to thank Newham Council not just for the honour of freedom of the borough, but for all the work it does day in, day out, for local people

Mark Noble
Mayor of Newham Sir Robin Wales is a regular attendee at West Ham matches and has seen Noble play live on hundreds of occasions.
On Saturday, he will publicly congratulate the skipper before kick-off against Hull City at London Stadium.
"It is an honour that is offered sparingly, but when we do, it is awarded to remarkable people," said Sir Robin. "Each recipient has made a significant contribution to Newham life past and present. All are ambassadors, helping to improve how we are perceived locally, nationally and internationally.
"Mark is the epitome of the local boy who has done well. Born in Canning Town, he made his debut for West Ham United as a 17-year-old and has now clocked up almost 400 league appearances, scoring almost 50 goals.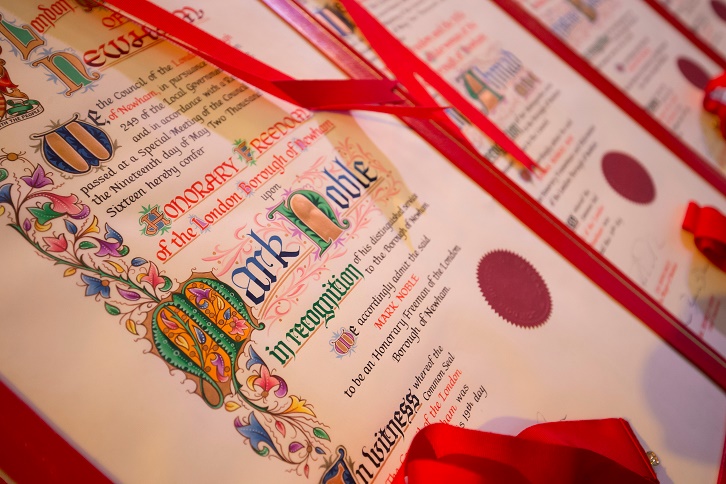 "He is also dedicated to supporting the community by working on a housing project called Legacy that will offer social and affordable homes. He is also patron of the Richard House Children's Hospice in Beckton. He encourages young people to follow his example by working hard, by being a good and respectful person and by looking after your community."
The honour of Freedom of the Borough is one of the last vestiges of local government from times past.
Today it does not confer any rights or privileges, but it is an honorary title for people of distinction who have rendered eminent service.