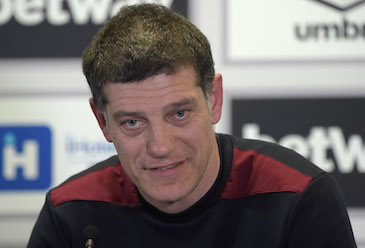 Good morning everyone,
We are preparing for another big game under the lights at London Stadium this evening and we all know the importance of getting a victory over Burnley. We need the points.
I was asked about the pressure of management going into these big games but the pressure is there anyway. To be fair every game is pressure.
Even last year when we were doing great, every game there was pressure. Now it's a little bit different kind of pressure. The pressure is big, the pressure is the same.
It is the nature of the job. The media changes and you have more and more press. You can be criticised worldwide.
Before you didn't know if a guy from New Zealand was criticising you, but now you are aware.
You know what people are saying in Kuala Lumpur straight after you have made a decision about your change of formation or during a game.
We are playing in the Premier League. It's not a friendly pre-season game. It is going to be a very different game mentally. We cannot change it. It is going to be like that.
Hopefully we can make it a little easier for us if we start like I am expecting us to start. I want us to be brave and confident but also patient and ready for everything.
If we show the intensity, the mentality, the determination, team work and everything, like we showed at Old Trafford or a couple of days ago against Liverpool, there is no reason why we should not do that. I am positive
I spoke to Dimitri Payet in my office after the Liverpool game. He's very motivated, is up for the schedule in the rest of the year and is acting and talking about only about West Ham.
We speak often. It wasn't like, "Come to my office, we have to sit down, we have to talk about something in particular". I wanted to share some ideas with him and that was it.
He had a very demanding season like everybody else last year and then went straight to the Euros.
After the Euros he had a break and it wasn't ideal and it wasn't like six weeks but he had three weeks off and then he got injured a bit.
He didn't have a proper rest or pre-season but every player who played at the Euros and went towards the semi-finals or Final was in a similar position.
The schedule of the Premier League is one that you don't have a winter break and you cannot give him two or three weeks off.
He is experienced enough and last week against Liverpool he had one extra day off when he was in the gym and he was on the massage table doing a different kind of training and that is the kind of thing you can give him to avoid the possibility of fatigue and overloading.
We have got to do that (to protect him) but it is not just Dimitri, we do that with other players as well when you feel they are tired and have to change their routine a bit.
It is a team sport but sometimes you have to treat individuals differently. It depends on how much they play or if they have any private issues. It is all part of the job of course.
I was also asked about Andy Carroll in the pre-match press conference. I think I've spoken about Andy more than any other player including Payet.
The only negative thing about Andy is he is not available all the time. For the team, manager, that is the only one. That box, we are always hoping, we hope he will be long term available for us.
All the other boxes he ticks, his work rate in training, off the pitch, training ground is very positive. He's a good lad.
We hope he can play a big part against Burnley tonight.
Enjoy the game.
Slaven