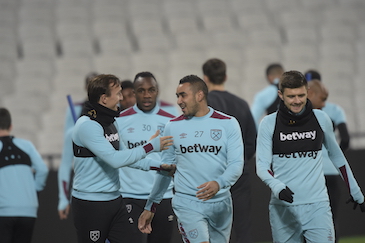 Slaven Bilic has nothing but praise for the job Sean Dyche has done at Burnley and feels they have comfortably adapted to life back in the top flight this season.
Despite only taking one point on their travels this season, Burnley have made up for it with an impressive home form winning five of their nine games at Turf Moor.
The Hammers manager knows the importance of the next two home games against Burnley and Hull and says he has been waiting for this period of games to come around.
But he is taking nothing for granted and says the players will be fully prepared for another tough encounter as they look to turn their season around in the next few weeks.
Bilic said: "Burnley are doing great. I am not just comparing it to a few years ago when they were in the Premier League. They are doing really well.
"At home they are winning on that small pitch with simple, effective, very intense and direct football.
"Away they have just one point at the most difficult of away games against Manchester United.
"But in some of those games they played good football like in the last one against Stoke. The first 20 minutes they were the better side so we know it is going to be a difficult game."
Bilic says the mentality of the players will be key if they are to record a crucial three points on Wednesday night, but feels the time has come for his players to deliver.
Bilic added: "We have to do it. We can't count on paper. Of course we are watching the schedule, but we have a chance.
"We have to go game by game. The key is mentality and I have no doubt we will have that mentality against Burnley.
"We have been waiting for this game with the greatest of respects to our opponent. We know it is going to be extremely hard but now the time has come, we have to deliver."