Sunday's Premier League clash between West Ham United and Liverpool at Anfield is full of intriguing individual contests.
Both teams have struggled to keep the opposition out, and with the Hammers and the Reds each possessing potentially potent front-threes, there could be goals.
Dimitri Payet and Manuel Lanzini will be loading the gun for former Liverpool forward Andy Carroll, while Roberto Firmino and Adam Lallana will be doing likewise for Belgium international Divock Origi.
The ability of the respective defences in keeping those trios - plus the likes of West Ham's Michail Antonio and Liverpool's Sadio Mane - quiet will go a long way to deciding the outcome.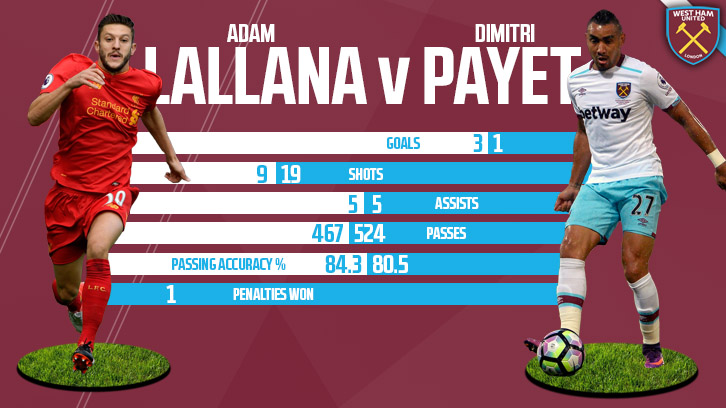 To kick-off today's Three Key Battles, we compare the two playmakers Payet and Lallana, with the statistics suggesting England man Lallana has been slightly more efficient than his French counterpart in the attacking third.
However, Payet has arguably been more influential overall, making more key passes than any other Premier League player this season.
Payet is a threat whenever he gets the ball, either to create space for a shot of his own, or to thread a pass through the defence for a teammate to latch onto. Lallana is also blessed with the same balance and elusiveness as the France star, and is also a dual-threat in that he can both score and assist with aplomb.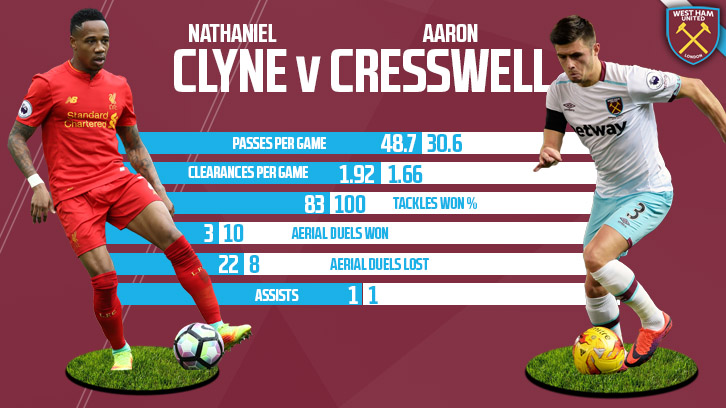 Our second Key Battle is between two England full-backs – West Ham's left-sided defender Aaron Cresswell and Liverpool right-back Nathaniel Clyne.
Cresswell will return from a minor injury and could be deployed again in a wing-back role, meaning he will come into direct competition with the speedy, attack-minded Clyne.
Perhaps unsurprisingly considering Liverpool's passing style, Clyne attempts far more passes per game than Cresswell, but it is the more physical Hammers man who has the better overall defensive numbers, particularly when it comes to aerial battles.
Whoever gets control of the flank patrolled by these two will have a big influence on the game, exploiting the space the opposite number leaves behind them by getting quality crosses into the opposition penalty area.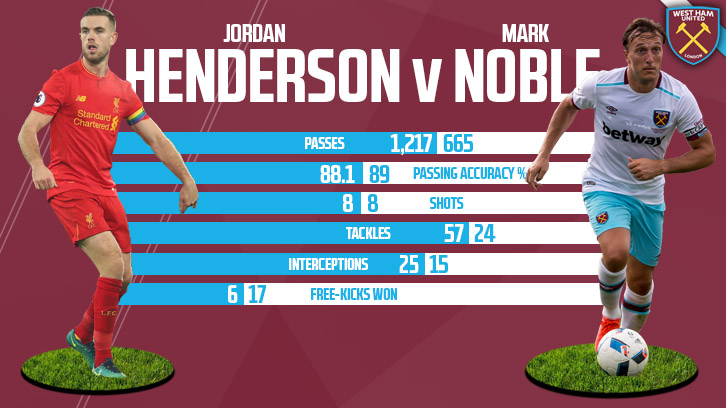 Today's third and final Key Battle is between the two captains, and two more Englishmen, in Mark Noble and Jordan Henderson.
England regular Henderson has flourished under Jurgen Klopp's management, taking on a more influential role in the centre of the midfield. This season, the 26-year-old has made more than 200 passes more than any other Premier League player.
However, it is Noble who has the slightly better pass-completion percentage overall, while the West Ham man has also been more effective at winning free-kicks from the opposition, lifting the pressure on his own team in the process.
Henderson will almost certainly have more of the ball than Noble, but it is what each of them does with it that will matter most.