Hello everyone,
Before talking about football, I want to pass on my condolences to the family and friends of young Jack Howard, who passed away last weekend.
As a father myself and having known, greatly liked and trained alongside Dylan Tombides before his sad passing, I know cancer is a disease which is unforgiving.
I am told Jack fought bravely until the end, like a true Hammer. Rest in peace.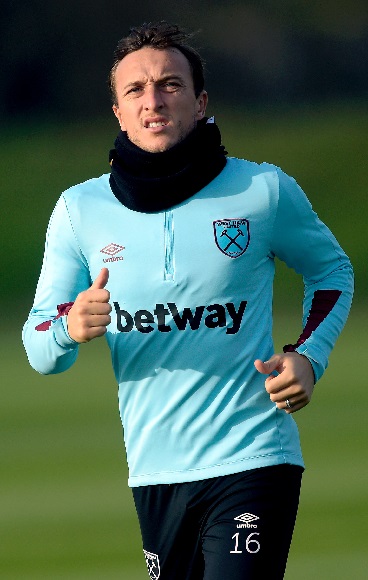 We are all looking forward to Sunday's trip to Liverpool, where we can make some history if we can win, as we'd be the first West Ham United team to win back-to-back games at Anfield.
We won't be the bookies' favourites, but it's the Premier League and you never know what's going to happen. Last weekend, they were 3-1 up against Bournemouth and managed to lose 4-3.
I know Liverpool have been away warm-weather training in Barcelona, which was nice for them and will have helped them clear their minds.
They'll be hoping to come back to Anfield and get themselves a result, but anything can happen in football.
To be honest Anfield hasn't been the greatest place for us, but last season we managed to make history by becoming the first West Ham team to win there in 52 years, which was fantastic.
I had an eventful game myself, scoring and then getting sent-off, although my red card was later overturned, which was nice.
We were in the lead, but you knew how quickly they can score goals at Anfield, then I made a perfectly good tackle and got sent-off for it. If Liverpool had come back and we hadn't got a result there, it could have been a different story, but we defended well and Diafra scored a really good goal at the end.
That's the sort of rub of the green we need. We know it's going to be a tough game but we've got to try our best.
Hopefully we can go there and get a result at the weekend because we need something to change for us at the minute and hopefully that can be it.
That sort of performance which we put in at Liverpool last season has to be the blueprint for every game, because you can't pick and choose when you want to play. The really successful teams manage to get up for it every week and that's what we need to do.
It's a great place to play, it's live on TV, so it's a great platform for everyone to try and get a result.
Finally, I'd like to wish everyone travelling to Anfield a safe journey.
Come on you Irons!
Nobes