Michail Antonio and Aaron Cresswell fit to return in Sunday's game at Liverpool
Slaven Bilic says players have redoubled their efforts in training this week
Manager says he feels the support of the Board and is determined to turn things around
Slaven Bilic will welcome Michail Antonio and Aaron Cresswell back into his squad for Sunday's Premier League trip to Anfield.
The pair have returned to full training this week after recovering from groin injuries and are set to give West Ham United a lift as they seek a confidence-boosting win over Liverpool.
Speaking to the press ahead of this weekend's clash with the Reds, Bilic also said his squad have redoubled their efforts in training as they seek to bounce back from last weekend's 5-1 home defeat by Arsenal.
"From the three players who got injured in the EFL Cup game, a couple of them should be back. Antonio and Cresswell are training with us today after the press conference and according to the medical reports they are fit and they are OK.
"With Cheikhou Kouyate, it is a little bit different. We were hoping he would be OK for Sunday's game, but unfortunately he will have to miss it. It's not a big [groin] injury, but he has a great chance to make it for the Burnley game in midweek.
"Diafra Sakho is out. We hoped until the scan came out that it would be one week or more like a cramp, but unfortunately it wasn't to be and it'll be five or six weeks. If the medical team do a great job and his body responds it will be four weeks but not for now."
I have told the players we have got to be positive and I've had a great reaction from them this week in training

Slaven Bilic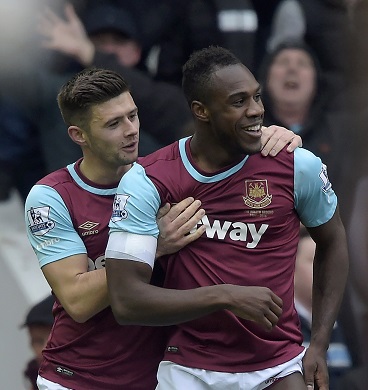 The return of Cresswell and Antonio will add solidity and firepower to a West Ham side desperate to end a run of seven matches without a clean sheet in all competitions, conceding 17 goals and scoring just eight.
With those statistics in mind, Bilic called on his players to give their all in training leading up to Sunday's live-televised game, and the manager has been pleased with what he has seen at Rush Green this week.
"I have told the players we have got to be positive and I've had a great reaction from them this week in training," he confirmed.
"We all felt bad last Saturday. We were one-down after 70 minutes so to lose 5-1 left us disappointed, frustrated and angry but you have to get over it, which we have done and we have a big game on Sunday."
Bilic was again asked about his own position and he responded by dismissing erroneous reports of a meeting he had supposedly held with the Board this week.
"We didn't have a meeting, we had a conversation like we normally have," he said. "Since I've been here, I speak to the Chairman a couple of days after every game. After Saturday's game we spoke on Monday and had a good conversation, but not a meeting.
"I feel the support and have said that so many times and I felt that support in our conversation this week. I believe in myself and my staff and look at what we achieved last year and I believe there is time to turn it around."