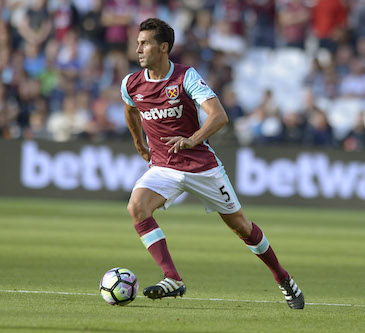 Alvaro Arbeloa has enjoyed many high points during his career winning the World Cup with Spain and the Champions League with Real Madrid.
The 33-year-old is now facing a challenge of a different kind as he looks to help West Ham move away from the bottom three and get their season back on track as they prepare to face his former club Liverpool on Sunday.
Arbeloa has a wealth of experience at the top level and hopes he can use some of that to help his team-mates get back on the winning trail and make amends for the disappointing home defeat against Arsenal last weekend.....
Alvaro, the team is experiencing a difficult spell at the moment. Is this a time when we need our experienced players and people who have won trophies at the highest level to lift the other players in the dressing room?
AA: "Of course this is a very tough time for everyone at the Club and we are facing pressure because we need points.
"The main thing we can do as players is to work even harder during the week and when we are on the pitch, we need to stay together and fight until the end.
"We need to be ready for everything and focused on the game. We need to do everything perfect and do our best. That is the only thing we can do now."
How much of a different challenge is this for you now, because you have won major honours for both club and country and are now having to help the team move away from the bottom of the table?
AA: "This is a different challenge but I am used to this kind of pressure because when I played for Real Madrid, if we lost one game it was really bad so I know what to expect.
"Every week and every day at Madrid we were under pressure so I am used to it but this is a different kind of situation.
"We have to train with a high intensity and we have to show our best form."
You have been fortunate enough to play in a number of successful teams. Can you see the quality in the squad that will help turn the Club's fortunes around?
AA: "Of course I can see that. When I see my team-mates I know that they have quality.
"I think the players are hurting a great a deal after what happened on Saturday. We have a great manager and great players.
"We have been hit by a number of injuries, but there is nothing we can do about that. We are training as hard as we can and we need to stay together as a team and get more points."
The main thing we can do as players is to work even harder during the week and when we are on the pitch, we need to stay together and fight until the end.

Alvaro Arbeloa
The Hammers had a memorable victory against Liverpool last season winning 3-0 on Merseyside. Can the team get a similar kind of result on Sunday?
AA: "It will not be easy but of course we can get a victory. They lost 4-3 against Bournemouth last weekend so it is possible.
"West Ham won at Anfield last season so there is no reason why we cannot do that again."
Have you been back to Anfield since leaving Liverpool and what do you remember about the occasion?
AA: "I went back with Real Madrid two-years ago and we had an amazing game winning 3-0. We had a great performance that night because Liverpool were playing well at the time.
"It was my first time back for a number of years and it felt a bit strange going into a different dressing room.
"But it was great for me to sample the atmosphere again. The supporters were always great towards me and it was nice for me to come away with a victory."
Can you see any comparisons between Liverpool and West Ham and the amazing support that the fans show towards the team?
AA: "Liverpool are a massive Club and there is a good feeling between the fans and the team.
"I can see a lot of comparisons with West Ham because when I first came to London I knew they also had really good fans and there is a great connection between the players and the fans.
"I could see that when I used to play for Liverpool at the Boleyn Ground and I could feel that from the West Ham fans. It is important to have that kind of support and they are among the best supporters in England."
What would be your standout memories from your time at Liverpool?
AA: "I have really good memories but it was obviously disappointing to lose the Champions League Final against AC Milan in Athens.
"For me every game that I played at Anfield was amazing and I remember beating Real Madrid 4-0 at Anfield which was a great night and it was an amazing final season that I had there when we were fighting for the title with Manchester United.
"I played with some great players like Steven Gerrard, Javier Mascherano, Fernando Torres and they are legends at the Club.
"I once again see similarities with West Ham as they both have great anthems when you walk onto the pitch and you can feel something special when you go onto the pitch."