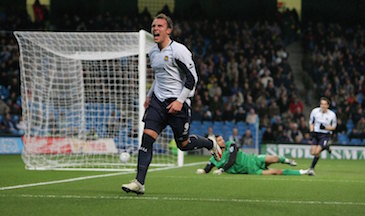 Memories came flooding back for former striker
Dean Ashton
when the Emirates FA Cup third round draw was made on Monday night.
The Hammers were drawn at home against Manchester City and who could forget Deano's memorable brace against City back in March 2006 which helped the Hammers come away with a 2-1 victory and set the Club on the way to their first FA Cup Final since 1980.
Ashton enjoyed a number of memorable moments in a claret and blue shirt but his performance at the Etihad Stadium ranks alongside one of his best and he would now love to see the Hammers cause another big upset.
The former Hammers striker is well aware that the Premier League is the number one priority, but feels a good cup run could only bring more confidence into the squad at a time when everyone needs to come together.....
I had a great time at West Ham United but the Manchester City game in the FA Cup is one of those games I get reminded about and the fans always talk to me about the first goal I scored.
It was a special night for everyone at the Club and we felt at that stage that it was going to be our year.
We came into the game with a lot of confidence as we had been on a good run of form, including a big away win over Arsenal. I had managed to get a few goals and was showing what I could bring to the Club.
I still love watching the Manchester City game back and the first goal that I scored.
I managed to produce a flashy bit of skill after receiving a pass from Nigel Reo-Coker and took the ball around Sylvain Distin who is no slouch and I managed to smash the ball past David James into the corner of the net.
It was with my weaker left foot but I was so happy to see the ball go in and I still enjoy watching the celebrations that followed.
The victory brought even more confidence into the squad and after beating Middlesbrough in the semi-final at Villa Park, we came so close to beating Liverpool in the Final.
 

This is a tough time for West Ham at the moment but everyone needs to stick together.

Dean Ashton
I know this is a tough draw for West Ham but the FA Cup is slightly different and we don't know what kind of a team Pep Guardiola will put out on the day.
If we can manage to get a win, it will bring so much confidence into the squad and it can help with the league form as it will give the players a big lift.
We found that after winning at the Etihad Stadium on that Monday night and we were flying that season.
This is a tough time for West Ham at the moment but everyone needs to stick together.
The Club is not being helped by injuries to key players and the weekend defeat against Arsenal was very disappointing.
But we need to show more fight and be harder to beat and that will allow players such as Payet and Lanzini to show a bit of magic and nick a goal at the other end.
This is a tough run of fixtures but the team will have good memories of their performance against Liverpool at Anfield last season and they need to take that into the game.
I believe this is a good time to play Liverpool following their 4-3 defeat against Bournemouth on Sunday and I see it being a close game.
When I look at the squad I believe there is enough quality to turn the situation around but we need the strikers to start scoring again.
We obviously need players like Andy Carroll to come back and it will make such a difference.