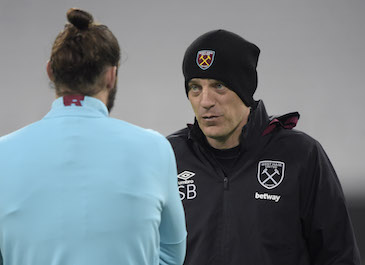 Good morning everyone,
We are determined to bounce back from the disappointing defeat against Manchester United in the EFL Cup and we know what we have to do if we are to get a positive result against Arsenal.
We are pleased to have Andy Carroll back in the squad for the game and he was unstoppable against Arsenal last season.
It was probably one of his best games for West Ham and during his career. He scored a hat-trick and had another goal disallowed.
He was great during that game and all the games that he was available. I can't remember many games when he was below par. Maybe Watford away when the whole team didn't play well.
I was a defender and no defender is comfortable when he is in the box. When you are a centre-back you want the ball to be in the air and not on the ground.
When the ball is in the air you are dominating and your job is to stop him scoring. You can nudge him a bit and kick if necessary!
But when the ball comes into the box it is down to him because of his presence, his height, his timing, his hungriness to get to the ball first, his bravery and great timing.
He is not under-estimated. We spoke about him last year and his problem is consistency – not on the pitch but consistency in being available to the manager. All he needs is to feel good in his body.
He is one player that makes an impact on the crowd, on the opponent, on his team-mates.
He had a great season at Newcastle and during that time he was playing for England against my country Croatia when he had a spell of 20 games or more without injury.
I was also asked about Dimitri Payet in the pre-match press conference and his recent performances.
He had a great Euros but got injured in the first game back against Chelsea. He worked his way back to fitness and is a key player for us.
With the ball he's a world class player. Of course I'm happy with him, he's an easy player to train, a very good professional. But you can't expect Dimitri Payet to play alone. You need other players to do better.
It is a blow that we are missing Aaron Cresswell and Michail Antonio through injury.
With Antonio you are losing goals, and that pressure doesn't increase on Dimi now, it increases on the entire team.
I don't have to change the system. We have players who have played there before and it's more hard now to revert to a four without full backs.
Enjoy the game.
Slaven