Slaven Bilic apologised to everyone associated with the Club following Saturday's defeat
West Ham United were beaten 5-1 by Arsenal at London Stadium in the Premier League
Manager gave a brutally honest press conference in which he vowed to turn things around
Slaven Bilic issued a heartfelt apology to everyone associated with West Ham United following Saturday's 5-1 Premier League defeat by Arsenal.
The Hammers were left crestfallen as Alexis Sanchez's hat-trick took the shine off Andy Carroll's goalscoring return.
Speaking to a packed press conference at London Stadium, Bilic was refreshingly and brutally honest in his assessment of the situation. Here is a transcript of what the manager had to say:
Slaven, at 1-0 down after 70 minutes you were right in the game and must have thought you could get something, then everything went wrong. What happened?
"We had some good spells in the game, like we've had good spells in the season but we have to be honest and say we don't do it in every game for the full length of the game, so they deserved it.
"We had some spells at 1-0 for them, even 2-0 for them, but for 90 minutes, they were very aggressive. We knew they had that pace up front and sometimes they like to play on a big pitch, so they let you have something and attack you in the big space and they can be lethal.
"I'm very disappointed, I feel frustrated and humiliated to be fair and I must say sorry to the fans, the Club and everyone who has anything to do with West Ham United because it was really bad.
"Maybe the result [was unfair], if you look at the spells of the game, there were moments when we were alive until the last 20 minutes, but you can't say they didn't deserve it."
Arsene Wenger said your team were lacking confidence. Do you agree?
"Confidence is one of the reasons. Arsene is very polite and he told me some good things before the end of the game, but of course you can't have confidence when you are 16th and your expectations are to be seventh, eighth or whatever.
"Confidence is a chain-reaction. I said it to the players – be responsible for this, because somewhere down the line, from pre-season onwards, we lost our intensity in training.
"We don't do it in every training, we do it occasionally, and that's why we can't do it over 90 minutes in the games. We have to bring it back because we can't rely only on quality. Every team in this league has enough quality, but if you don't have intensity on the level that is required, like we don't have it at the moment, this is the reflection."
Is it down to you or the players?
"You know me and I'm not trying to make excuses and I'm not trying to say who is guilty. I said it to the staff and to the players and it is my responsibility as the manager and I have to get it back as quickly as possible because we don't have it at the moment.
"We can't lie and say this and that. We can't hide behind referees' decisions or injuries. Overall, it's not good. We've had 14 games and we've had some great games – Chelsea in the EFL Cup, Palace, the majority of the game at Spurs, Old Trafford – and we've worked hard in games like against Bournemouth, and we had eight injuries today, that's all true, but (bangs his chest) this is the main reason. That's a fact."
If intensity is not there in training or on matchdays, what can you do?
"We are not the first or the last to lose it, or not look like the same team from five games before or from last season. It is there and it is in us, starting with me, and it is in the players, so we have to start doing it consistently on Monday, Tuesday, Wednesday, Thursday and every day...
"It's there. We can do it, because these players have done it, but the dedication to the cause is missing."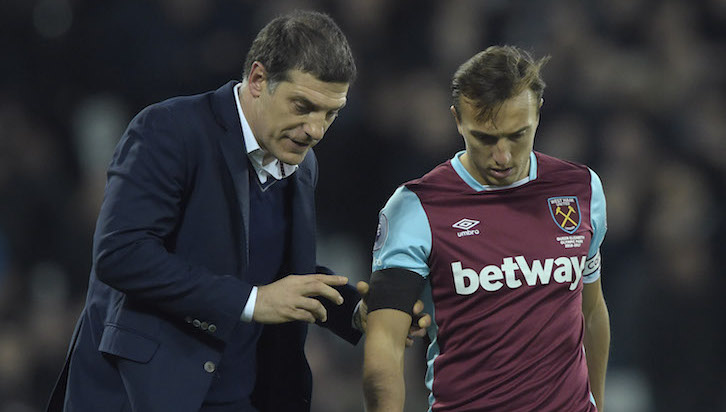 Do the players need to take more responsibility?
"I take the responsibility. Players are there to give everything in training and in matches and the manager is there to take the responsibility and I have absolutely no problem whatsoever with that.
"There is no point talking about who is taking responsibility after the game. We need it before the game, during the game and in every training.
"We can talk for ages here now, but the fact is 100 per cent right and that is we didn't forget to play football or forget to be creative and all that, but somewhere along the line, somehow, we lost our intensity."
Are you in a relegation battle and do the players know they are in one?
"Of course we are in a relegation fight and of course the players know that. It's not that they don't care. I spoke to all of them but something is there between caring and being crazy."
Do you think the players believe their talent is enough to get them out of it?
"That's a good question. To be fair, it doesn't look like we know that it isn't enough. They and me are together. We didn't play tonight like we know we can, and we are in the same position we were in before the game.
"It's about time for us – not for them – to realise what position we are, the situation we're in at the moment and the only thing we have to do to get us out of this zone."
You know what happens when players don't respond to a manager – the manager gets sacked. Do you think you are in that kind of territory?
"It's your job to ask me that and it's a normal question in this kind of situation, where the expectations are higher than the situation we are in.
"I'm a very positive, open person and try to be open and honest. I am very optimistic and will never give up. I am positive I can turn this around.
"Do I enjoy to be in this situation? No. Do I feel pressure? Yeah, but I don't want to feel like I'm feeling now. Am I positive? Yes I am. Did I do enough last season to get some credit? I think I did.
"At the same I'm 48 and have been in football for 30 years so I know how it works in football, and I have absolutely no problem with that.
"Do I like my job? Yes, I like it."