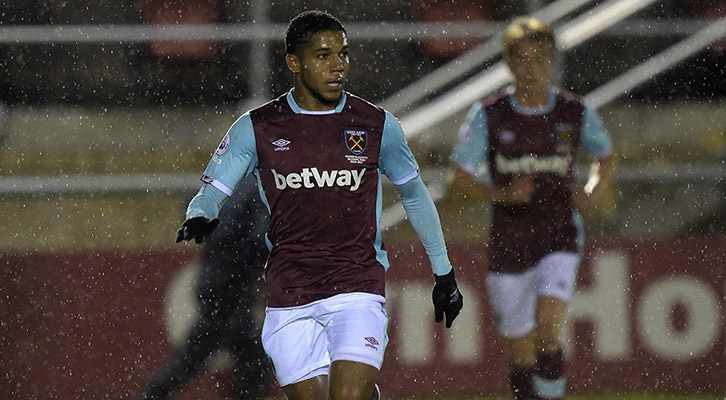 Djair Parfitt-Williams is delighted to be back and playing football after injury
The Bermudan forward scored the Hammers' only goal in their 3-1 defeat to Brighton last night
He believes the Hammers have the ability and talent to bounce back from consecutive defeats
Djair Parfitt-Williams described West Ham United PL2's 3-1 defeat to Brighton and Hove Albion an "up and down performance".
The Hammers went a goal down after Jayson Molumby's effort squirmed under keeper Raphael Spiegel but they equalised through Parfitt-Williams for his second goal since returning from injury.
However, it was the Seagulls who regained the lead through Jesse Starkey and secured the victory in stoppage time through substitute Joe Ward.
"It was an up and down performance.  We were on top of them at times but the mistakes we made gave away the game," said Parfitt-Williams.
"It's not hard to see the talent that we have in our team to create goals and to score goals but we've just been unfortunate with two bad games."
Parfitt-Williams is enjoying a consistent run in Terry Westley's PL2 squad after suffering a nasty hip injury during pre-season.
This resulted in a frustrating few months for the Bermudan attacker, who has since returned and had a real influence on the team.
The forward loves scoring in the Premier League Cup – as well as netting last night, he scored the only goal in the Hammers' first leg victory over Hull City in the final last season.
"I'm very happy. I was injured for four months and I've now had three starts back and scored two goals. So 2 goals in 3 starts isn't bad and now I need to push on and start affecting the games more," he added.
"I scored quite a few headed goals last season and it seems like I know how to get in the right place for them!"