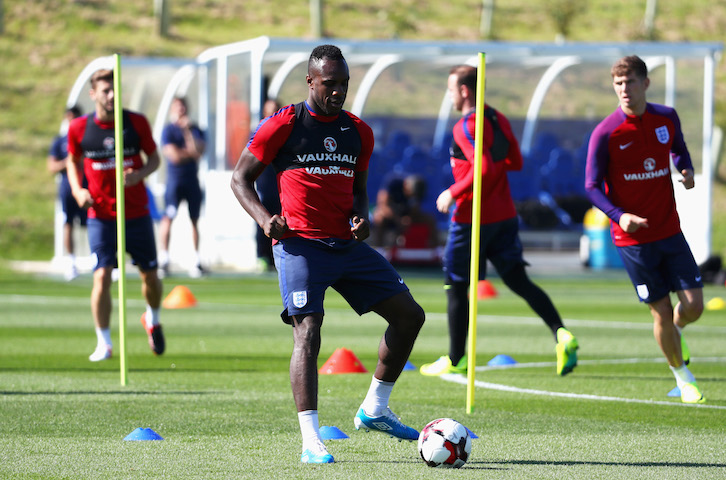 It has been a memorable 48 hours for Michail Antonio after he received his first call-up to the England squad for the European Championship Qualifier against Slovakia on Sunday.

Antonio has been one of the star performers for West Ham United in the opening part of the season and has already scored two goals against Bournemouth and Manchester City in the Premier League.

The 26-year-old has been rewarded with a place in Sam Allardyce's first England squad and he is now keen to showcase his talents on the international stage....
How much have you enjoyed linking up with the England squad following your first call-up into the senior squad?

MA: "I've settled in quite well and the boys have taken to me really well. It is just nerve-wracking a little bit because I didn't expect this so early in my Premier League career.

"I'm definitely looking forward to it. It has been very emotional, especially when I found out.

"It has always been a boyhood dream for me to play for England and the opportunity to be called up is breathtaking."
We have seen stories that you thought the England call-up was a wind-up when you first heard the news. How long did it take before you came to terms with the first call-up?
MA: "I did an interview at the end of the game and I came in and the physio went over to me and said 'you've been called up.'
"I said 'Ha, funny'. He said 'No, seriously.' I said 'good banter' but I looked at him for a good 30 seconds and he looked at me.
"I wasn't sure I could take him seriously but he showed me a piece of paper (confirming the call-up) and after that I started welling up inside. All I wanted to do was call my missus. Obviously she didn't pick up!"
Have you had a chance to talk with the new England manager Sam Allardyce about your call-up and what do you hope to achieve this week?

MA: "When I first came and spoke to the gaffer I said I was very grateful for the opportunity, he said 'there is no need to be grateful and that if you look at your stats and what you have done, you deserve to be here'.
"But obviously I'm very grateful and I just believe that I need to make him proud and show everyone out there that I have got the ability and I can do it."
What were those early days like playing non-league football and being a lifeguard at the same time?
MA: "When I was playing non-league I also had to work because you don't earn the same wages that you do playing in the Premier League.
"I was also a lifeguard and had to do an hour a night my community college. It was probably one of the most boring jobs I have ever done in my life and it was so hot!
"I have got 26 nieces and nephews and it is good to show them you can always do anything if you put your mind to it."
Sam Allardyce has already said that he has been very impressed with your background and the fact you have come from non-league and have done well in all the leagues you have played in. How much pride do you take in the football journey you have made?
MA: "To pick someone like me from my background, it is a risk but the gaffer has shown his belief in me and now I have got to show it to the world. One thing I have always believed in is to never give up.
"Always have belief in yourself that you can achieve things. Anything is possible in life. Once I reach one target, I always search for another and I went from non-league to Reading. I kept going out on loan because I wasn't getting much time at Reading.
"Then I went to Sheffield Wednesday and then Nottingham Forest and I managed to get to West Ham, where I always wanted to be - the Premier League. Then I said to myself 'become an international'. Now I've done that, I've got to set myself a new target now.|
What does it feel like to be part of something new under a new England manager?
MA: "It feels great to be in the first squad. I just want to get my head down and hopefully I can get my opportunity on Sunday and show everyone out there what I can do."
Did you watch the European Championship Finals during the summer and what did you make of the tournament?
MA: "I watched the Euros and have always watched England growing up.
"It was very disappointing but we have to focus on the future under a new England manager and picking people on merit. Hopefully we can do well on Sunday."
Can you sense that the players who were involved in the tournament are keen to make up for the disappointment they encountered during the summer?
MA: "It is a fresh start for everyone. It doesn't matter what you have done in the past and the players will go out and work hard.
"The players will want to work their way into the starting line-up."
What do you make so far of Sam Allardyce and what attributes can you bring to the England team?
MA: "I have never played under him but people I have spoken to have said he is very relaxed and hopefully I will get to know him more over the coming years.
"I hope I can keep doing what I have done in the Premier League and take it onto the international level."