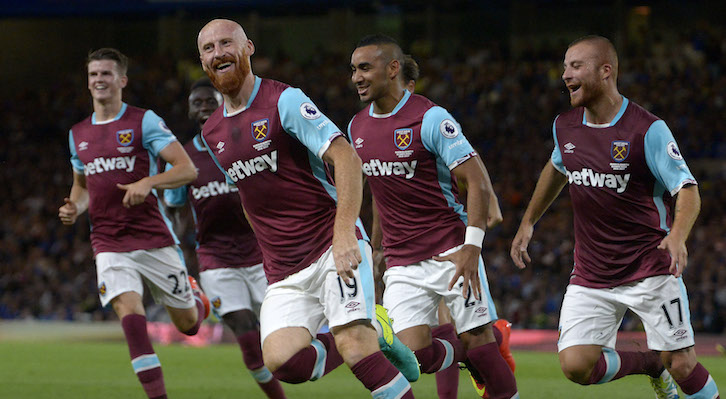 James Collins celebrates his 33rd birthday on Tuesday and it has certainly been a few months that the West Ham United defender will never ever forget.

The 'Ginger Pele' was part of the Wales squad that defied all the odds to reach the semi-finals of the European Championship Finals during the summer.

Collins has returned to the Hammers full of confidence and his good luck continued when he was picked to start the first two Premier League games and also got on the scoresheet against Chelsea.

The experienced defender is now hoping to enjoy another memorable campaign at the new Stadium and believes there is enough quality in the squad to challenge in the top half of the table....

You have now played your first Premier League game at the new Stadium. How do you reflect on the experience and getting a crucial victory right at the end?

JC: "I thought it was a good performance. Obviously we are missing a lot of our attacking players so to get the goal late on and then hold is massive for us."
How did you find the atmosphere inside the new Stadium and a Club record 56,977 attendance getting behind you?

JC: "Our fans are unbelievable every game and it was the same against Bournemouth.

"This is a magnificent stage to play on and the fans are great. Hopefully they are enjoying it, because I know the players are when we play here."
You mentioned the attacking problems. How big a blow was it to lose Andy Carroll before the Bournemouth game?

JC: "It is a massive blow. We have got a lot of injuries in the attacking third and missing a player like Andy is huge.

"But we have got a big squad and managed to get our first win of the season. Hopefully we can build on that and look forward to the next game."
Do you think the manager will need to add to the squad and give you more options?

JC: "That is down to the gaffer but I am sure he is thinking about it. The same with the Chairman.

"We have made some great signings during the summer and we need numbers. If we can bring more quality into the squad, than everyone will welcome it."
How much did the loss of those attacking players show against Bournemouth on Sunday?

JC: "I am not sure it showed too much. The game looked like it was destined for a draw and they kept the ball very well.

"I thought we defended very well. But Michail has moved further forward and we have got the goal.

"We have obviously got injuries, but we have other lads who can score goals and thankfully we did that on Sunday."
You scored your first goal for the Club against Chelsea since January 2015. How much would you like to improve that record this season?

JC: "I should be scoring more as I go up for every corner and I don't get on as many as I should.

"I would have been more happy if my goal against Chelsea would have got us a point but it wasn't to be."
You are certainly facing a lot of games at the moment with the Premier League and Europa League. How do the players get themselves ready for all these big matches?

JC: "This is what it is all about – playing top flight football and this is what we are here for.

"We have had a good pre-season and we are as fit as we can be. These are exciting times playing in Europe and we didn't do ourselves justice last year and we want to improve on that.

"The games are coming round quickly and we have to be ready for them."