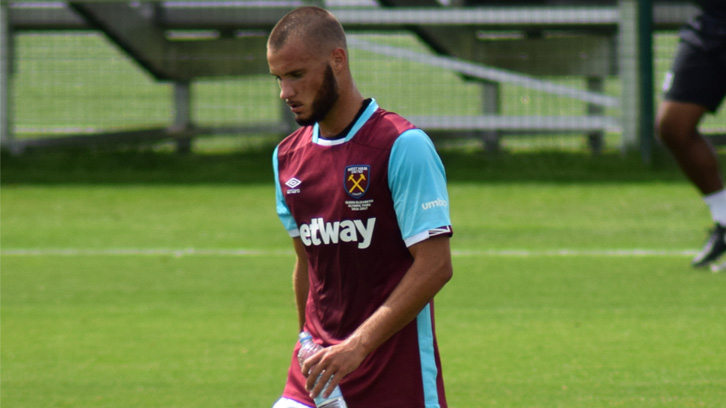 Midfielder Noha Sylvestre is ready for West Ham PL2's clash against Newcastle United on Monday
The side beat Stoke City in their Premier League 2 opener last weekend
They take on the Magpies at their new home at Dagenham & Redbridge FC's Chigwell Construction Stadium
West Ham United Premier League 2 face Newcastle United in their first home match at Dagenham & Redbridge's Chigwell Construction Stadium on Monday and midfielder Noha Sylvestre can't wait for the clash.
 
The Swiss youth international played 30 minutes in the side's 3-0 victory over Stoke City last weekend as Terry Westley's team began their league campaign with a win.
 
And, playing in front of what is hoped will be a big crowd on Monday at the Daggers' ground, Sylvestre is looking forward to the occasion.
 
He said: "I've never played at Dagenham & Redbridge's ground before, and I can't wait to get out there against Newcastle. We're hoping to get lots of supporters there for the whole of this season, so I think it will be great for us to play there.
 
"I played half an hour against Stoke at right-back, and I enjoyed the game. Our performance was very good, and I put some good crosses in during my time. I still have to work hard at right-back, because I'm still learning the position, but I'm trying to be better every game.
 
"I think the important thing with the win was to get confident for the rest of the season. That first game is always a big thing, and you have to get through that after a long pre-season. A 3-0 win is not easy, but it has left us feeling very confident and we're ready to go again and try and get another good result against Newcastle."
 
Toni Martinez and Ashley Fletcher, as well as a Stoke own goal, helped the Hammers to victory in Staffordshire, and Sylvestre believes the Hammers' PL2 squad is stronger than ever.
 
"We have a really great group of players this season," he continued. "We have to do well this season with the players that we have got.
 
"It's obviously good for me because it means I can progress more, playing with quality players. The likes of having Toni and Ash up front is really exciting for us.
 
"Everyone is ready for Newcastle. We're obviously working hard in training, and we have two big games coming up. The first one is a bit like a second game; it's about getting ready for the rest of the campaign. I think we'll do well."
 
Entrance to Monday's Premier League 2 clash is free for season ticket holders, with adults and children tickets priced at £5 and £3 respectively.