West Ham United captain Mark Noble says he was proud of his players and hopes they will now get the job finished against Astra Giurgiu following the 1-1 draw in Romania.
 
After playing their opening Premier League game against Chelsea on Monday night and missing a number of key players through injury, the Hammers players still put in a battling display against the Romanian Champions.
 
Youngsters Reece Oxford, Reece Burke, Sam Byram and Jonathan Calleri were all handed a starting place in the UEFA Europa League Play-Off first round and produced impressive displays.
 
Noble had fired West Ham into the lead from the penalty spot on the stroke of half-time and West Ham looked set for victory, but substitute Denis Alibec netted a late equaliser to keep the tie firmly alive heading into the second leg at the new Stadium next Thursday.
 
Despite the disappointment of not getting a victory, the Hammers skipper says there is still everything to play for and hopes home advantage will see them qualify for the group stage of the competition.
 
Noble said: "We have brought every fit player we have got and we are taking this competition seriously. We are playing a good team who were the Champions in Romania last season.
 
"You don't just turn up on a pitch like this and turn teams over. That is not the way it works but we got punished for not taking our chances. I was proud of the lads and thought Jonathan Calleri looked sharp on his debut.
 
"The lads are disappointed but we have come out to Romania after playing a game on Monday and thought we did really well in the first half.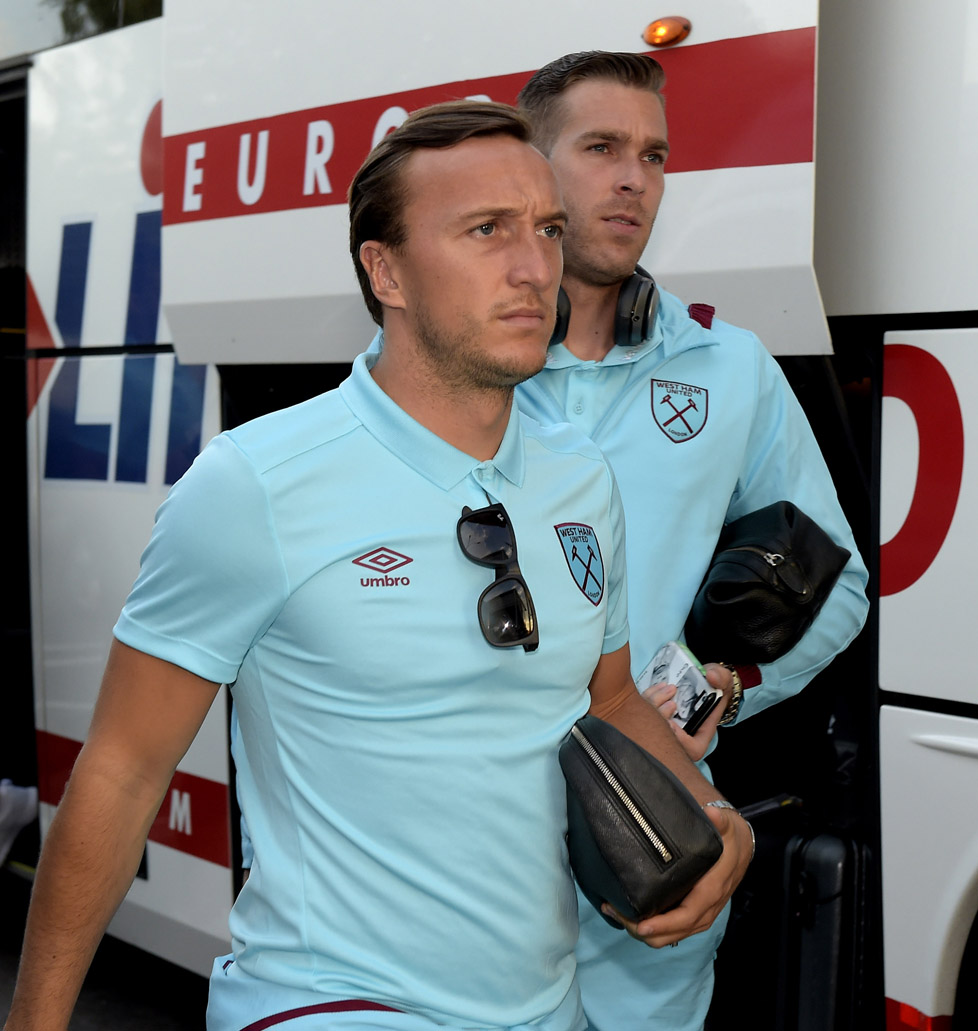 "We got the goal that we deserved after having two cleared off the line. It was good to get a penalty and go 1-0 up, but it was obviously disappointing to concede a late goal.
 
"We have now got a big game on Sunday which we are looking forward to and I'm sure the fans will be behind us.
 
"We have picked up a few injuries which is not great and our thoughts go out to Andre [Ayew] who has suffered a tough time in just his first game.
 
"We had a lot of young players in the squad which is what this competition is for. If the squad is not big enough to play first-team players then you pick the youngsters which is what we have done. We got a draw and are now at home in the second leg."
 
Noble continued his impressive record from the penalty spot as he made it 28 from his last 31 spot kicks, but despite the amazing stats, he says he will never get carried away with all the headlines.
 
Noble added: "There is no secret to taking them. I feel confident I am going to score, but as I have said before there is a lot worse things happening in the world than taking a penalty.
 
"I know everyone loves football and is passionate and has an opinion. If you miss people have things to say.
 
"But there are people fighting on the frontline and one of the charities I donated my money to from my Testimonial was Help for Heroes because what they go through every day and on tour, I am sure they would swap me and play in a Europa League tie."
 
Noble quickly turns his attention to the first ever Premier League game at the new Stadium against Bournemouth on Sunday and says it will be a special day for everyone involved with the football club.
 
"I am looking forward to Sunday and it is finally upon us. I have been waiting a long time for it.
 
"The three hour trip to Romania was not ideal three days before but we are football players and have to get on with it."