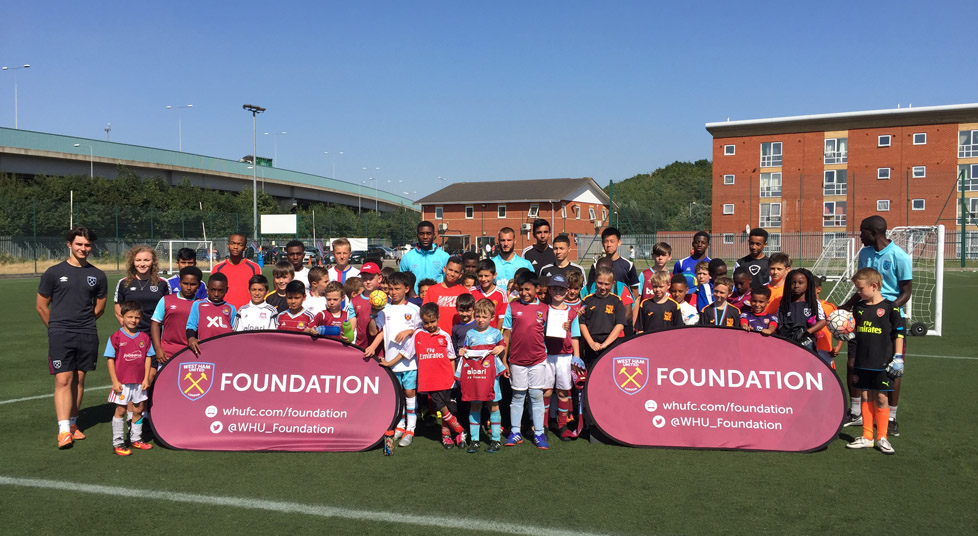 Dev Squad players Moses Makasi and Noha Sylvestre visited the Hammers' Foundation this week
The midfielders joined in the with coaching sessions and were grilled in a Q&A
Places on the Soccer Schools can be booked online at soccerschools.whufc.com
Youngsters attending the West Ham United Foundation Soccer School were delighted to meet Dev Squad midfielders Moses Makasi and Noha Sylvestre this week.
 
The duo visited the Foundation's Beckton base and got involved with some of the players' drills and activities, teaching the children their specialist skills and passing on their knowledge and experience.
 
At the end of the session, the kids also got the chance to grill the pair, asking them all manner of questions, ranging from their diets to their toughest opponents.

Their opponents on Monday night, however, will be Newcastle United in the Dev Squad's first fixture at their new Victoria Road home.
 
Makasi, who travelled with the first team to the US and Austria for pre-season tours this summer, enjoyed his time with the youngsters.
 
He said: "It's great coming down here to the Foundation, because all the guys are so enthusiastic. It's something I've done before and I'll definitely be up for doing again.
 
"The Foundation do such a great job working with the kids and you can see how much they enjoy the sessions when they are on the pitch. They remind me of myself when I was a kid playing for West Ham."
 
After signing shirts, photos and other pieces of kit for the children, Sylvestre said: "I really enjoyed spending some time here at the Foundation. All the kids' questions were great and they really got us thinking.
 
"You can see how talented some of them are, too – perhaps West Ham players of the future!"
 
After the session, Ross Williams, the Foundation's Head of Football Development, said: "We really appreciate the visit from Noha and Moses, considering their commitments as professional athletes.
 
"They were great and participated in the sessions engaging with the young people. It means so much to the kids participating on our Soccer Schools. It was clear to see they were motivated and inspired by the visit, many also showing the confidence to ask great questions during the question and answer session.
 
"We like to think one of these kids could be answering the questions one day as a future West Ham United star."
 
The Foundation's Soccer schools run all year round and are open to children of all abilities aged between three and 15.
 
Due to popular demand, additional dates have been added at our Beckton site Soccer Schools on 23 and 24 August. To book, please visit soccerschools.whufc.com.