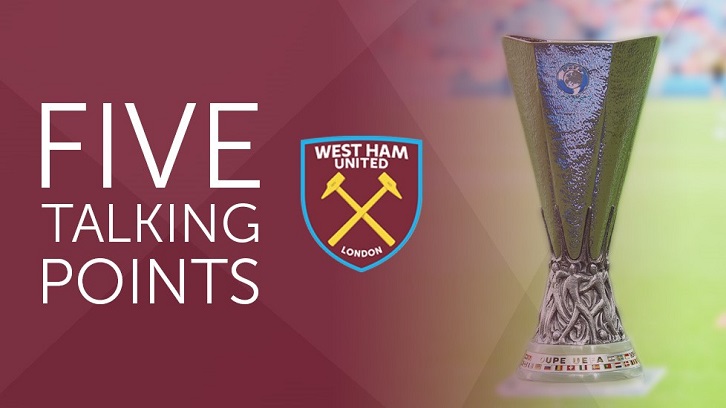 All the major topics for discussion ahead of Thursday's UEFA Europa League tie in southern Romania...

Revenge…

Ever since the draw was made, West Ham United's return visit to Astra Giurgiu has been touted as a chance to gain 'revenge' for defeat by the same opposition, in the same competition, a year ago.

Revenge is a strong word, and the Hammers will surely be concentrated only on reaching the UEFA Europa League group stage, regardless of the identity of the opposition.

Astra may have won the Romanian title last season, but there has been a large turnover of players – including the departure of star man Constantin Budescu – and coach Marius Sumudica is currently serving a two-month suspension.
 
Europa League v Premier League

As Slaven Bilic said in his pre-match press conference, the question is asked every year – 'Why do you want to stay in the Europa League if it is going to have an effect on your Premier League form?'

Bilic insists that, injury crises aside, he has a squad big and strong enough to cope with both competitions, and that he sees European football as an important step forward in the Club's development and growth.

He is right. What point is there in working hard all season to finish in the European places, if you are then going to treat continental competition as a distraction?

On balance, West Ham's Europa League participation is good for the Club, good for the players and good for the supporters.
 
Darren's chance to shine

Slaven also mentioned in his pre-Astra briefing that, while Adrian remains his No1 goalkeeper, Darren Randolph is also an outstanding stopper and will play in the knockout competitions 'at least'.

So, does this open the door for the softly-spoken Irishman to make a real play to dislodge his equally amiable Spanish squad-mate from between the sticks?

Randolph has yet to let West Ham down when he has played, and on Thursday he will have yet another opportunity to show his manager what he can do.
 
The loyal Claret and Blue Army

Anyone walking through the historic centre of Bucharest on Thursday could not have failed to notice the large Claret and Blue-clad group of supporters enjoying a beer – or a dozen – in the Romanian sunshine.

Around 400 have made the journey to Romania and will cheer their heroes on from a corner of the Stadion Marius Anastasovici.

The players hugely appreciate that level of loyalty so, should West Ham progress to the group stage, why not follow the Hammers into Europe next time around?
 
The right-back debate

It has become THE hot topic on social media in recent days – Michail Antonio and the right-back position.

Antonio himself grew up and developed his game as a powerful, direct, attacking winger or forward, but manager Slaven Bilic clearly spotted the attributes of a top-level full-back in his No30.

Whatever the future holds, Antonio has speed, strength and the ability to tackle and head the ball with aplomb – all traits that suit the full-back position. Bilic has shown time and again that he has tactical acumen and the ability to judge his players' attributes, so who are we to doubt him in this instance?