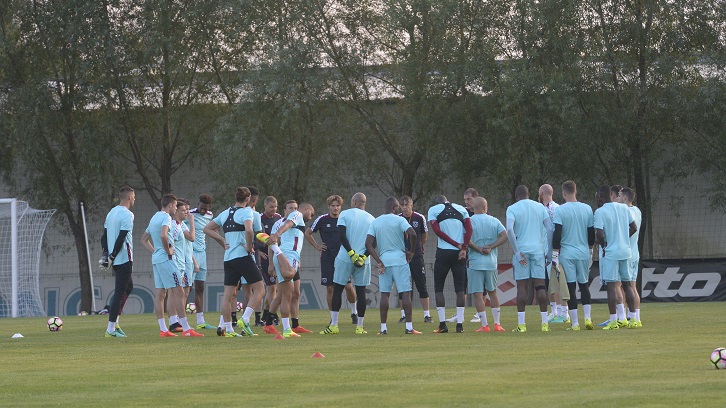 Slaven Bilic says West Ham United want to reach the UEFA Europa League group stage
Hammers face Romanian champions Astra Giurgiu in third qualifying round on Thursday
West Ham finished seventh in Premier League last season to qualify
Slaven Bilic says West Ham United will be doing everything they can to reach the UEFA Europa League group stage.

Speaking ahead of the Hammers' third qualifying round first-leg tie with Astra Giurgiu in Romania, the manager dismissed suggestions that the Club should dismiss the competition and concentrate only on the Premier League.

Instead, he spoke enthusiastically about instilling a mentality within the Club whereby playing three competitive games every week becomes the norm.

Slaven, can we start with team news please? How seriously are you taking this tie?

"We have a training session on Wednesday evening and then we will pick the team on Thursday, but we will definitely be picking the strongest team we can, because that's why we came here.

"I said openly before the Domzale game and at the start of the pre-season that we want to get into the Europa League group stage. This is the play-off round and it's very important to win for West Ham United.

But will qualification for the group stage – and another six Thursday night matches – have an effect on your Premier League campaign?

"Look, we want to qualify. We had a good season last year and are one of the few clubs from the Premier League who are privileged to be competing in Europe.

"We have got a chance. We are two games away from the group stage and the Club, the fans and the players – individually and as a team – and the staff want to participate in it.

"I saw that it affects your chances in the Premier League but, despite that, we're going to try it and it's good for everyone. It's good for the players to play in different countries and against different teams, they become better players as well."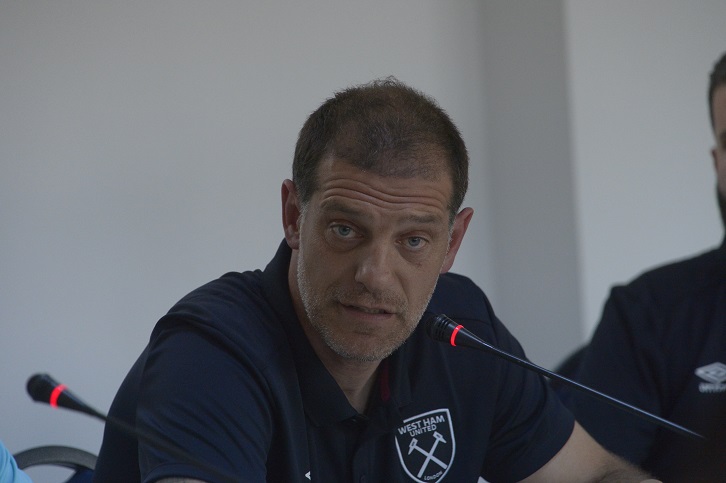 How do you counteract any negative effect Europe might have on your Premier League form?

"You can have a very big squad, but on paper we are prepared for that. We have a big squad, but we have some injuries from pre-season and they'll miss the game on Thursday, but they'll come back and hopefully we will have qualified.

"This is a football team and you can make a few changes of course, but we have to adjust to this. Man City played Saturday and then Tuesday and Monday and Thursday is the same. You have enough time and maybe their players are more used to midweek football, and we didn't, but we want it. We want to be part of that group. Everybody wants it and that's why we came here.

"Although it's not normal for West Ham to play Monday, Thursday and Sunday, we want to. Why do we talk about qualifying for Europe the whole season if, when you qualify, the first question you ask is 'Why did you want to qualify?'"

What do you know about Astra Giurgiu? Did you know they have lost a lot of players and their coach is suspended at present?

"I know they have many of the same players as last year [when Astra won 4-3 on aggregate in the third qualifying round] and I know they have many internationals from different countries.

"They sold a few players, that's also true, but they have a team who have played together for some time. They gave FC Copenhagen a good game at home in the UEFA Champions League qualifiers, drawing 1-1, and for me what is crucial is that they're the current champions of Romania.

"I know the Romanian league, being from Croatia, and I know how good Romanian teams can be. OK, maybe they sold a few players, but I'm expecting a tough game."
Does the fact Darren Randolph is sat next to you suggest he will start on Thursday? And also, how is Adrian's leg after Diego Costa's challenge at Chelsea on Monday evening?

"I said openly last season when we won 3-0 at Anfield that the only department that I don't have to talk about are 'keepers because we have great goalkeepers and also Rafa Spiegel who is a young and exciting No3.

"There will be competition. Adrian is the No1 but Randy will get his chance because he deserves it. I'm not doing it because I want to please everyone, but because he showed last season that he can do the job so he's going to play in Europe and in cup ties in England minimum."

"Adrian's leg is OK, but since the game he didn't train. He had a recovery session on Tuesday, but he seems OK."

You have brought Jonathan Calleri with you to Romania. What can you tell us about him?

"He has travelled and is with us for a couple of reasons. First off all, it was a deal that was done a while ago and we knew about it.
"He has been with Argentina at the Olympics and we were very happy when he decided to come to us. He's a really good striker and we need that kind of a player.

"He came and trained on Tuesday in the morning, but the other players weren't out on the pitch. He trained with the guys this evening and he might be out there tomorrow.

"He is in form, played in three games at the Olympics and scored, so he is definitely in good shape and doesn't need pre-season and all that. The only question-mark is jet-lag, so we'll see on Thursday."