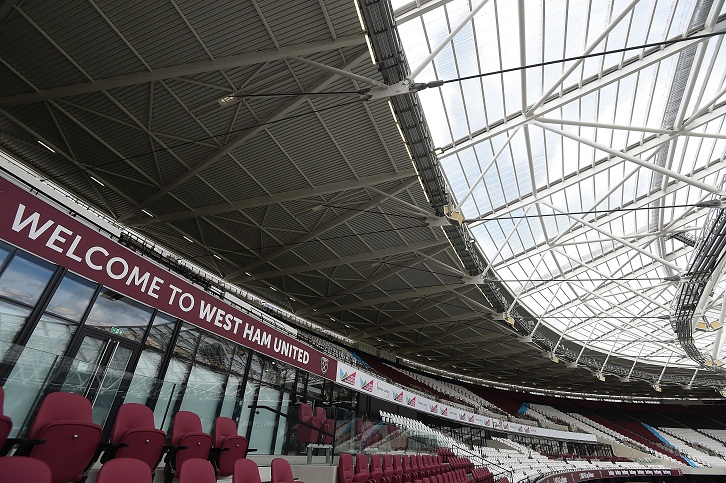 Many West Ham United supporters will be attending their first fixture at the Club's historic new home on Thursday night.  

The Club's move to London Stadium on Queen Elizabeth Olympic Park will mark the start of a new matchday routine for each and every fan.

In line with other top sporting and entertainment venues of comparable size and prominence, the Hammers will be doing everything they can to ensure everybody's visit to our iconic home goes as smoothly as possible.  

The first and most-important piece of advice is to arrive as early as possible to take in and enjoy your new surroundings, including the concourses, Club London hospitality areas and the giant Stadium Store. 

Your brand new concourses are a celebration of all things West Ham and, with twice as many food and drink stands than at the Boleyn Ground and Europe's largest Stadium screens bringing you all the pre-match entertainment, there is every reason to arrive early.   

To ensure a safe and secure environment for supporters, friendly stewards will guide you to and from London Stadium and through our new ticket and security checks. There will also be a team of matchday volunteers on hand to offer any further assistance required.    

To make the most of your maiden visit, please arrive in good time for the 7.45pm kick-off and join West Ham United at the start of our exciting journey at our world-class home. 

Hammers supporters should take note of the following important information to ensure the first visit to our iconic home goes as smoothly as possible.
Pre-match information
Fans are strongly encouraged to travel to London Stadium via public transport, as it is the most-connected football stadium in the country, with nine direct rail links stopping at nearby Stratford and Stratford International stations.
Additionally, more than a dozen London Bus routes call at either Stratford or Stratford City Bus Stations. For more information about public transport, visit tfl.gov.uk
Fans are advised that there is NO spectator parking at Queen Elizabeth Olympic Park, except for pre-booked Blue Badge spaces (see below).
With 49 accessible parking spaces out of a total of 229 at the Stadium (21.4%), the London Stadium is far in excess of the recommended six per cent target for recreational venues and events. By comparison, the Boleyn Ground had provision for just 20 disabled spaces.
The Club is to operate four free shuttle buses to ferry supporters with accessibility needs between Stratford station and London Stadium pre and post-match. The buses will run from two hours prior to kick-off, to coincide with the turnstiles opening and supporters will be collected from platform 13, near the Jubilee Line
On arrival at Stratford station, fans are advised to take the most direct walking route to London Stadium, which is along Montfichet Road, which is accessible by exiting the station via the Westfield Stratford City exit, then immediately turning right onto Montfichet Road. It will take around 15 minutes to reach London Stadium from Stratford station.
Supporters will also be able to access Queen Elizabeth Olympic Park via Westfield Stratford City up to ONE hour before kick-off (6.45pm), after which staff and signage will direct supporters along Montfichet Road.
Turnstiles will open TWO hours before kick-off, so please arrive as early as possible to visit the Stadium Store and take advantage of the fantastic concessions available within the Stadium concourse.
As is the norm at all major sporting and entertainment venues in this country, London Stadium stewards will be on hand to ensure you are safe and secure during your stay. For your safety and security, ALL fans will be subject to a bag-check on entry to London Stadium. Stewards will also carry out random body searches. Supporters are kindly asked to be patient while these necessary checks are carried out.
On Thursday evening, a new turnstile and ticketing system in operation for the first time, so queues to enter London Stadium may be slightly longer than normal while fans get used to their new surroundings. The Club would ask supporters to be patient while queuing to enter the Hammers' new home.
While every seat inside London Stadium is covered, the summer has produced the usual unpredictable weather, so fans are strongly advised to bring appropriate clothing and footwear to protect against potential inclement weather. 
Post-match information
Stewards and signage will again guide you on the shortest and most direct route to your chosen station or public transport hub.
Supporters walking to Stratford station are advised that Montfichet Road is the most direct route.
If you are in possession of a parking chip or hotel reservation, you also will be granted access to Westfield Stratford City via Chestnut Place (The Cow) and between John Lewis/Jamie's Italian.
As is the norm after every major sporting or entertainment event, public transport services will be busy, so fans are advised to allow enough time to travel home safely. Build in up to 30 minutes to walk to Stratford or Stratford International stations, and further time to board services which are expected to be busy.
Public transport services through Stratford will be busy, so fans are advised to allow enough time to travel home safely. Build in up to 30 minutes to walk to Stratford or Stratford International stations.
Services into central London run from Stratford International and Stratford stations.
If you are travelling home via Euston, King's Cross, St. Pancras International or into Kent, fans are advised to use Stratford International station.
If you are attending an evening event, and are travelling to a destination where you need to connect with other Tube and rail services, supporters should to check when your last service leaves before travelling. 
On a move of this scale there will always be things that we need to work on together to get right. So we are asking you to be our eyes and ears. We want you to tell us what is working well and where there's room for improvement. 
Please send us your comments and suggestions to [email protected] so that together, we can provide the very best matchday experience possible.